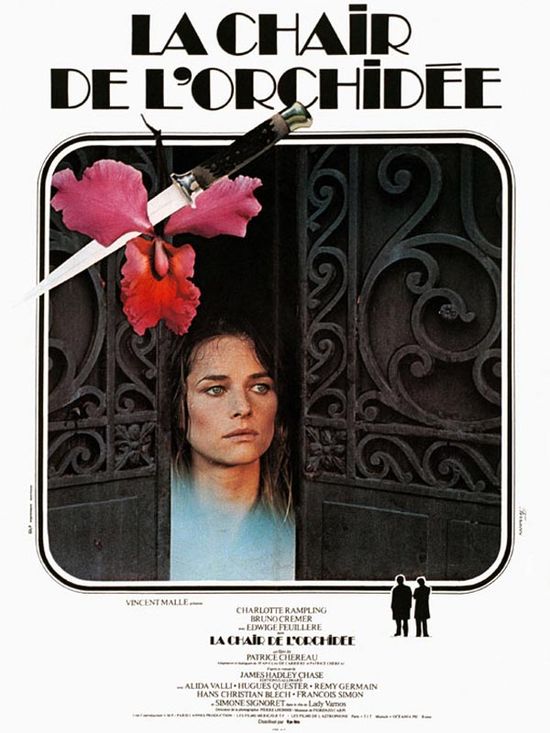 Year: 1975
Duration: 01:50:29
Directed by: Patrice Chéreau
Actors: Charlotte Rampling, Bruno Cremer, Edwige Feuillère and Simone Signoret
Language: French (English subs)
Country: France | Italy | West Germany
Also known as: Flesh and the Orchid, La chair de l'orchidée, Jagande skräck, Un'orchidea rosso sangue
Description: Charlotte is nekkid in this a bunch and spends a fair amount of time bound and on her knees AND may have figured out a worse punishment for gropers than castration. This is a view of a wet and rotting France filled with dirty and despicable people. I didn't even watch the whole thing and I wanted to take a shower and sit in bright sunshine. This has hard-subs and decent image quality. Stars Charlotte Rampling who you may remember in the Night Porter by Liliana Cavani and yeah, she gets nude in this one too! Also her favorite form of self-defense in this movie seems to be slashing people right in the eyes.
Review: The heroine of Charlotte Rampling in "Flesh of the Orchid" certainly came from there – with broken lines delirious pictures genius alcoholic. Impulsive, not remembering himself, all consisting of broken corners careless sketch, she appears out of nowhere and disappear into nowhere, simultaneously breaking the fate and vykalyvaya eye with a sharp knife. What she was the heiress of a fortune, destiny is as concerned about her family and mafia – turns passing and remains on the periphery of consciousness. Just among the movers of the plot there is another, not the most important element, introducing a little chaos in the already tattered and sprawl effect.
The key to this movie Shero was to create an atmosphere of madness, permanent nervous breakdown in which he lives Claire Vazhne. And painfully fragile, impulsive Charlotte Rampling was perfect for this part of the atmosphere. It remains only to add to it a circus of chaos, replacing Sullivan brothers from the original on Berekyanov circus performers – and the world finally shifted into some parallel plane. Here playboy and adventurer Louis meets a strange girl on the road, miraculously surviving a terrible accident and it gives a lift in his car. Here circus knife thrower pursue the youth for some mysterious sins of the past. Here random witness to the murder are targeted not only criminals, but also relatives of the victim completely different crime. Here, the whole world is the scene of the parade-alle characters circus. One of them will be older, but still compelling Simone Signoret as the elderly tsirkachki. All mixed up and roll over on its head, leaving even the memory of Chase, except for the name in the opening credits.

Screenshots:
Download: