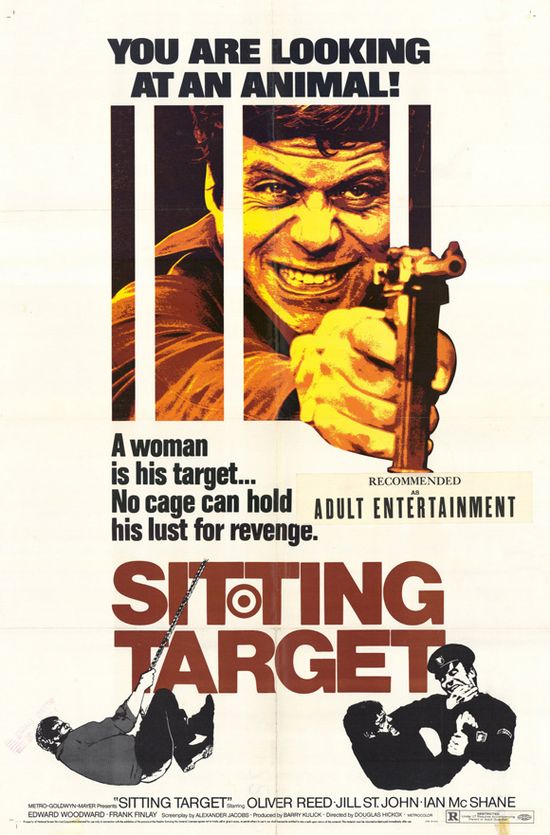 Year: 1972
Duration: 01:28:58
Directed by:  Douglas Hickox
Actors: Oliver Reed, Jill St. John, Ian McShane
Language: English
Country:  UK | USA
Also known as: O Sanguinário, Fængselsdyret, La celada, Kosto on suloinen, La cible hurlante, Dipsasmenos gia ekdikisi, Il Sanguinario, A Mulher Marcada, Hämnaren, Yarim kalan kin, Blutroter Morgen, Time for Killing.
Description: Prisoners Harry Lomart Birdie Williams and escape from the prison. They plan to wait a while in the woods, only to flee the country. But things change dramatically when Harry learns of his wife's infidelity. Unable to cope with anger, he decides to kill his wife with a lover, before you leave. After that, an elaborate escape plan suffers a complete collapse.
Review: Sitting Target 1.46GB XVID OF DOUGLAS HICKOX'S 1972 FILM, SITTING TARGET STARRING OLIVER REED, JILL ST. JOHN, IAN MCSHANE, EDWARD WOODWARD, FRANK FINLAY, FREDDIE JONES, JILL TOWNSEND AND ROBERT BEATTY.
AN UNJUSTLY UNDER-SEEN HARD-BOILED 70s ACTION/THRILLER, THAT HAS FAMOUS FANS IN TARANTINO AND WRIGHT (TARANTINO NAMING MICHAEL FASSBENDER'S CHARACTER IN INGLOURIOUS BASTERDS AFTER DIRECTOR HICKOX) THE HARD-CHARGING SITTING TARGET IS ONE OF THE GREAT BRITISH CRIME FILMS AND STANDS TALL AGAINST OTHER MOODY, EARLY 70s GENRE CINEMA, REGARDLESS OF NATIONALITY.
SCREENWRITER ALEXANDER JACOBS, AS WELL AS FRENCH CONNECTION II, THE SEVEN-UPS AND HELL IN THE PACIFIC, ADAPTED LAURENCE HENDERSON'S NOVEL OF THE SAME NAME. FROM THE VERY FIRST STRAINS OF STANLEY MYERS' PROPULSIVE, OMINOUS SCORE, YOU KNOW YOU'RE IN FOR A TREAT.
A NASTY RIDE OF A FILM WITH NARY A SYMPATHETIC CHARACTER IN SIGHT. HICKOX KEEPS THE FILM MOVING AT A GOOD, ENERGETIC PACE THROUGHOUT THE FILM FITTING IN AN EXCITING, TENSION-FILLED PRISON ESCAPE, A CHASE INVOLVING MOTORCYCLE COPS AND AN EMOTIONAL FINALE WITH A TWIST THAT LEAVES THINGS ON AN APPROPRIATELY SOMBER NOTE.
Screenshots:
Download: