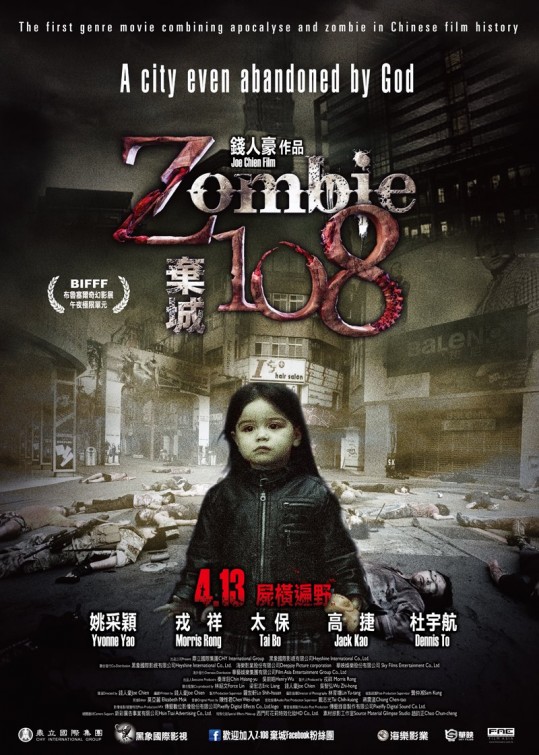 Year: 2012

Duration: 01:23:24
Directed by: Joe Chien
Actors: Morris Rong, Yvonne Yao, Sona Eyambe
Language: Mandarin (English Subs)

Country: Taiwan

Also known as: Z-108 qi cheng
Description: In the 108th district of the Taiwanese capital happens a leakage of toxic substances and starts a viral zombie epidemic. Authorities send special forces to save the remnants of population, but the evacuation is complicated by resistance from the local bandits. But the situation is so critical that, willy-nilly, they need forget the bitterness and unite in the common threat.
Review: This is not just trash it Asian, and in this case Taiwanese trash, zombie-movie interspersed with psychotic killers, rapists, Negro parkuristom, desperate police, half-naked girls and frame tarantinovskogo a la "Pulp Fiction" in the beginning with a spoon of heroin and also other equally colorful characters and sketches.
The film sometimes naive, sometimes even silly, incredible, ridiculous, but at the same time touching on the Asian one, but enjoyable all the same, who is a fan not only zombies, but in general, Asian cinema.
There is also a worthy staff, there is a good idea, and even the soundtrack, there is even a logical action heroes sometimes, sorry that did not have the courage to make a film director stiffer realistic, darker and more terrible, and not wander between drama, comedy, horror and evil, choose give him a clear line and stick to it from this movie, in my opinion, only would have won.
Review #2: Surprisingly pretty good Taiwanese zombifilm.
In principle, of course, can be considered trash, but for real trash this film too bad shot, and then the budget seems quite decent. In the middle of the movie leaves the wheel and at the time the film is in the style of horror porn, it is a maniac torturing naked girls. Fortunately, zombies quickly and get to it!
Too much blood, dismemberment and generally a lot of hard scenes. Humor is there, but it there a little bit. In general, fans of horror and zombies in general must watch, and then as you have seen films from Taiwan? Well then worth a look!
Screenshots:
Download: