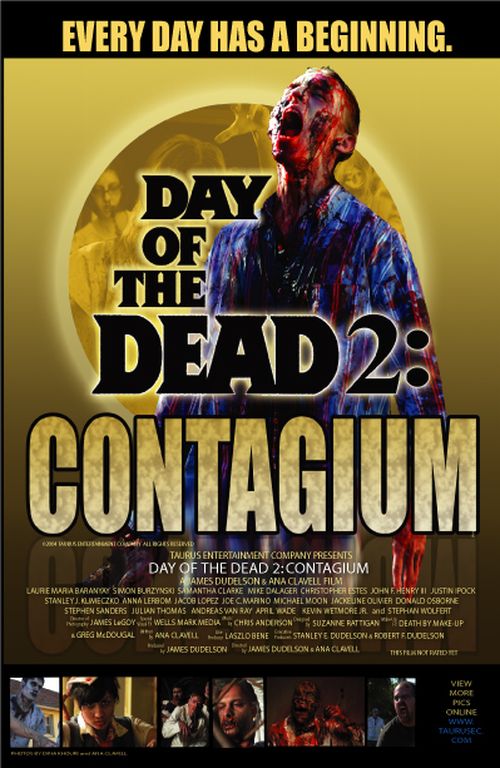 Year: 2005

Duration: 01:39:11
Directed by: Ana Clavell, James Glenn Dudelson
Actors: Laurie Baranyay, Stan Klimecko and John F. Henry II
Language: English
Country: USA
Also known as: Dia dos Mortos 2: O Contagio, Le jour des morts vivants 2 – Contagium
Description: The action begins in 1968. In the military hospital in Pennsylvania Army scientists experimented with biological weapons before they lost control of it. And, as a result, both patients and medical staff began to die like flies and turn into zombies. Command sent by special forces have shot every single one, and at the same time destroyed the vials with the deadly virus. But one container, hidden in ordinary thermos remained. It, even in our days, the patient is a psychiatric clinic and curiosity thermos open …
Review: Scientists, philosophers, biologists, and many others. Always tormented all one and the same problem, the desire. To find the elixir of youth or immortality. I wonder what would happen to live where you do not know and are not afraid of diseases and other misfortunes, do not fear for your life, you're immortal. But there is another question – and to what shell you go over the border of death, he stepped into the domain of eternal life? Zombies out – also immortal in principle. Thus, the "Day of the Dead 2."
Immediately the question – why part two? It seems that this picture is not true to the original series of films by George Romero, and no side is not related to his "Happy Dead" in 1985. Then what name? Well this is a trifle, as it delights. Actually, the movie.
Only straw, for which you can grab in order to somehow tie this creation with creativity Romero, is that the opening of the film (it tells of an outbreak of a strange disease in a military laboratory, the result of which is mass genocide staff, employees and equipment) with the events of 1968, which can be considered a sort of prequel to the "Night of the Living Dead." But here and contradiction. Outbreak of infection was prevented. Unclear. Well, plus everything in one scene, when patients enter the building on his wall you can see the inscription «Romero Ward» – this is probably just as a tribute. In this similarity ends paintings.
Generally, in its style, the story, some original ideas, I'd rather took the film to a series of stories, "The Return of the Living Dead." A kind of "stuff" in the container, which are random people from the local community and become infected. The process of transition to a new zombie substance is shown in some detail by the example of the main characters (in fact the essence of the film and is contained in the reflection of the transition to a state of zombies). Plus a heavy dose of black comedy, and some kind of psychedelic imparting film more entertaining. Yes, the film is a lot of philosophy, some cognitive research, as in Romero films, but against the whole madness that is happening on the screen, all these findings look a little silly and out of place and rather reinforce comedic tone.
Screenshots:
Download: