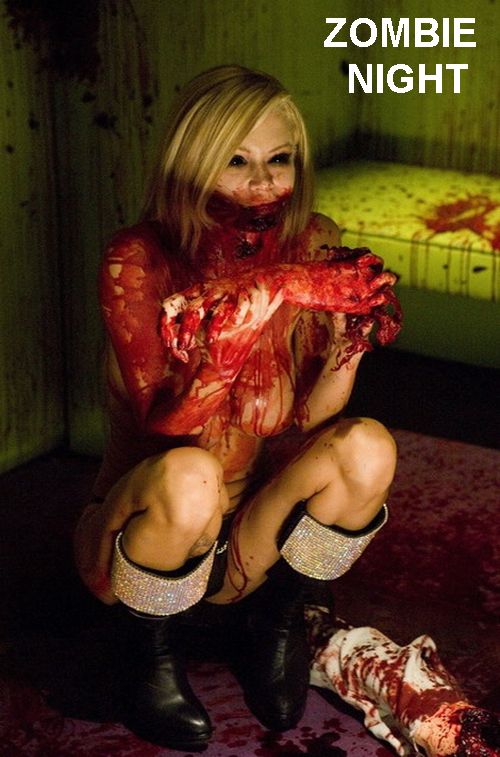 Year: 2003

Duration: 01:31:36
Directed by: David J. Francis
Actors:  Danny Ticknovich, Sandra Segovic, Dwayne Moniz, Steve Curtis
Language: English
Country: Canada
Also known as: 
Description: A series of nuclear explosions, which occurred due to the fault of the two major world powers, shocked the planet. Has spread at an incredible rate radiation is the cause of mass poisoning of people. No country could not avoid the terrible consequences of the nuclear disaster …

Filmed by David J. Francis, the maker of Reel Zombies and Awakening
Review: So bad it's good. One of the most stupid zombie films I have ever seen.This flick is so terribly idiotic, you just cant not love it. Total fucking cheese 😀 The only thing is good is the movie's poster
I saw the worst horror movie. His name – "Devouring the living," nothing like that. But the more original in English – «Zombie Night». I stumbled on this "film" by accident – watching TV, change channels and got to this misery. Especially I would have looked it only at gunpoint, and it seems unlikely. I have to say, I only lasted for 20-25 minutes.
Movie begins well – some guy running away from the zombies. Pretty formulaic, but as it is. After all, the guy is hiding and thinks that he is safe. But no, the zombie attacks and devours him. Begins with the feet (or hands, it was dark, I could not make out) and makes it disgusting – chomping and crunching loudly. After that, the name of the show and there is a real story.
The plot – a husband, wife and their daughter go on the road and then on the radio say that there have been nuclear explosions and radiation spreading rapidly across the globe. Next, I did not understand what had happened – they abruptly stop and hide in some factory or warehouse. And then the most important thing: her husband is hiding his favorite in a dark room, and he is looking for something. Genius, in one word. He finds people, one with a gun and zombies. Zombies in the "Zombie Night" – natural downs. He moves slowly, whines and champs do not even want to attack people. I'm not talking about the terrible makeup, probably because all painted in watercolor. But people are not gone away from them – until one was aiming for this freak, he was killed. Next man finds more people and some rubber limbs on the road … And yet – people do not even try to escape from the warehouse infested "living dead" – a street full of cars, including the car the main character, but they do not notice them.
Another review: Perhaps many people think that movie where on the cover of a lot of scary people, and from the name of blood-curdling, is a horror film. This is not the case. This film is more documentary. Probably many have wondered why this or that movie comes out in theaters on him who goes, who gives to such money, who buys DVD, who sells the DVD, which has agreed to plant print DVD, and most importantly, who agreed to duplicate? So, the picture of the "Zombie Night" shows a good example of why people go to school directors, screenwriters, actors learn the Stanislavsky system, the operator at least once before the shooting takes up a camera and composer goes to a music school.
Brothers, Francis probably imagined yourself with new Tarantino, hoping that they will appreciate the genius. But no, they just created a living corpse, who did not even want to shoot him because he wants to eat your brains, but because its just a pity.
I do not see any reason to criticize it as a visual aid to do, especially if you have no brains. In this case, a plane can be a good pougarat characters and action scenes are not so bleak. See how the actors fall into the arms of a zombie (you can keep at least one rule of etiquette and did not utter a word in the film), and try to play at your leisure drama quite fun.
Meanwhile, anyone who has ever seen the movies of Pierre Woodman (yes, the same) immediately notice the familiar handwriting, and for good reason, because in the film also has a fairly explicit scenes.
Screenshots:
Download: