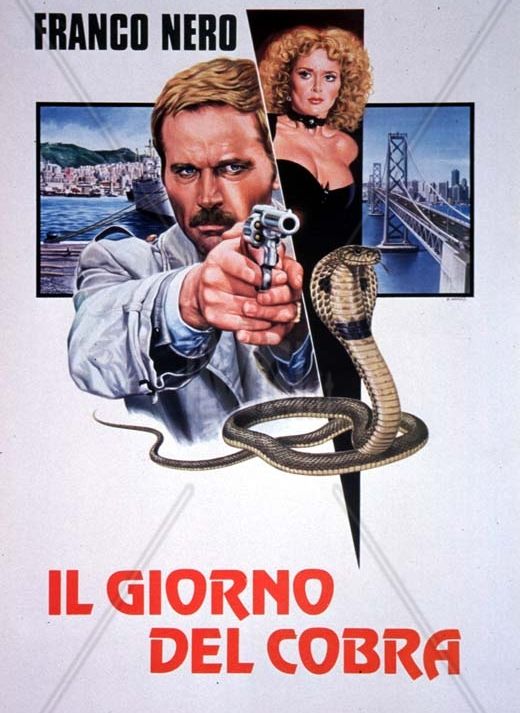 Year: 1980
Duration: 01:30:43
Directed by: Enzo G. Castellari
Actors: Franco Nero, Sybil Danning, Mario Maranzana
Language: Italian
Country: Italy
Also known as: Der Tag der Cobra, O Dia do Cobra, Day of the Cobra, Polisman Cobra, Le jour du cobra
Description: Ex-COP hunts for blood money drug dealers: it seeks to reach the truth and for that he has his methods. And who said that good always wins?..
Larry Stanziani is an ex policeman who has returned from three years in prison and then expelled from the "Narcotics Bureau" for a false charge.
To earn a few bucks deals with minor crimes as a private investigator, found by his ex boss has to find Kandiski, known criminal sighted in Genoa.
Offer him $ 20,000 and gets the opportunity to return to his old job…and especially recover his old nickname: the Cobra.
Once again Enzo Castellari surprised me. The fact is usual ironic detective stubborn about yourself. Revisionism in film Noir. However, as all simply and rapidly done. At first glance — sissy-loser, in a raincoat several sizes bigger is closest when considering desperate professional and loving father. Tough and uncompromising, he consistently solves problems, and then destroys the criminals. The image, which was developed by Franco Nero appears to me much closer brutal Humphrey Bogart. Nero plays the man who quite often looks ridiculous, but professionally relates to the task at hand. Realizing that the case takes a personal turn, it just destroys all under the beautiful chords of the song Don't Give a Damn, I am the Cobra.
As for me, so it's all very cool and realistic. A true professional, because usually need a trigger call. Without them, they often look ridiculous. And as to the place is half-mad gaze Franco Nero.
Everything else — the plot twists, the search for criminals, not so important. Look at the crazy eyes Franco Nero. Consider a sexy Austrian Cybill Denning (now, alas, this type appeared in print, in vain) and enjoy this wonderful song. To expect from this film is not worth much, but he is definitely an order of magnitude above many Poliziotteschi, and Noir too. Blame my perfectionism and inflated estimates of genre films, but looking at a boring selection of the best films of the 80-th year and comparing them with the Cobra, I can only put only this assessment. This movie for me.
Screenshots
Download