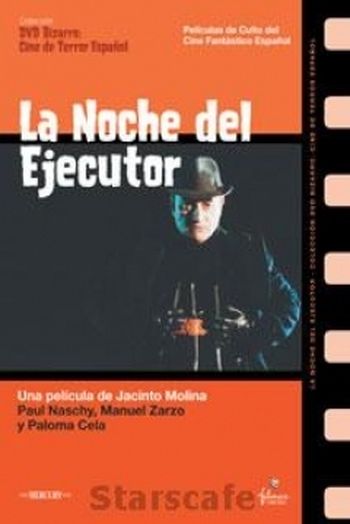 Year: 1992
Duration: 01:30:17
Directed by: Paul Naschy
Actors: Paul Naschy, Manuel Zarzo and Paloma Cela
Language: English
Country: Spain
Also known as: La noche del ejecutor
Description: In "Night of the Executioner," writer/director/star Paul Naschy offers us a lower-budget, bloodier remake of Death Wish, with Naschy playing a doctor celebrating his 50th birthday with his wife and daughter. As they stop off to pick up a few party items they get spotted by a zany group of hoods who decide to bust up the party, rape the mother and daughter TO DEATH and beat and slice out Naschy's tongue to boot! But thanks to his amazing virility (hahaha-I love when Naschy writes his own characters) the doctor survives, puts on a familiar looking outfit and stalks the gang. Penis explosions, drug overdoses and Naschy pulling out some wrestling moves that Bronson lacked are highlights, but it is instead the return to form of Naschy that made me smile the most. THEY CALL HIM NO-TONGUE as he sets himself up to fling knives and blow suckers away with his ballistic prowess.
Naschy's past as a weightlifter enables him to pull off some impressive lifting during the training sequence, and while he takes a comically short time to become a sharp-shooting, knife-throwing master assassin, he wears a face of such grim determination that his character becomes believable. Its a fine performance in a stony sort of way, he does little more than occasionally nod his head or shift an eyebrow but is never dull, he radiates a cold, unfeeling menace, stark urge for vengeance that really fits the material.
When directing "The Night of the Executioner" it seems evident that Naschy's primary goal was to entertain, and he certainly gets it right. Despite its failings, is an entertaining flick with lots of shootings, stabbings and rapes in the hour and a half. Also interesting to reflect a little on the viewpoints of the characters regarding retribution and retaliation, and how these views change for in one way or the other. I think the Master also made this film for viewers to reflect also about the "eye for an eye" and all its various implications. And the film is not shy about adding a dash of "society has done them wrong" at points. For instance, Naschy teams up with some attractive prostitutes to get his revenge. Also, look for Sergio Molina as a young boy that gets stuck in the line of fire! He looked a lot like his dad in this film.
Well, it is clear that "The Night of the Executioner" is not going to perpetuate itself as one of the best films of Paul Naschy (Empusa and Night of the Werewolf). The performances of the actors seem extremely forced, even from the beginning of the film with the scene of "Happy Family" shopping in the supermarket. While the lead villain, Ralph, is a particularly effective scumbag, all the bad guys are excessively smug, resulting in some ludicrous dialogues. It seems a very retro flick overall, one which looks as if it was made in the late 70's; the only thing really connecting it to its actual time of release is a number of cheeky references to Hollywood action, including one to Charles Bronson.

Screenshots:
Download: