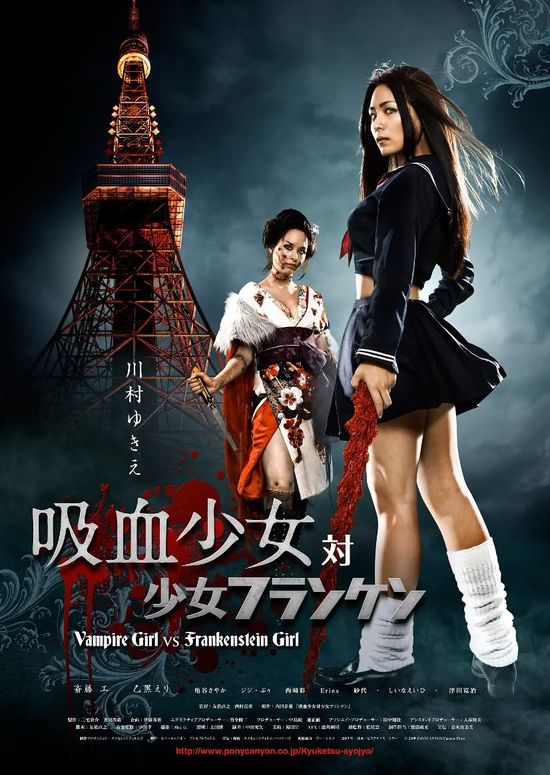 Year: 2009

Duration: 01:24:30
Directed by:  Yoshihiro Nishimura, Naoyuki Tomomatsu
Actors: Yukie Kawamura, Takumi Saitô and Eri Otoguro
Language: Japanese (English Subtitles)

Country: Japan

Also known as: Kyûketsu Shôjo tai Shôjo Furanken, Gaijinsploitation 3

Description: From the director of RoboGeisha. Pretty vampire girl Monami, by going into new school, falls in love with handsome Mitsusimo. But the guy was entangled by naughty Keiko, the daughter of school's director and, in combination, a mad scientist, who, along with sexy school nurse Midori tried unsuccessfully to create a homunculus. But once in his hands appeared a drop of Monami's blood. It highs the chanses of immortal Monami and Keiko a battle for the heart of Mitsusimo.
Review: Always loved the Japanese actors. Only they can so vividly convey emotions with your voice, facial expressions and gestures. Throughout the film there is not a single person with a straight face.
The plot is on the one hand is unusual, the other is quite simple and is not plagued by unexpected turns of events that will benefit the film and gives the audience a chance to relax and enjoy the picture.
Pretty entertaining and believable special effects complemented absolutely ridiculous and absurd. This is unlikely because of the inexperience and incompetence creators probably true directorial move. About the presence of blood and severed limbs, I think we are not talking, and so everything is clear.
Screenshots:
Download:
Vampire Girl vs. Frankenstein Girl 2009