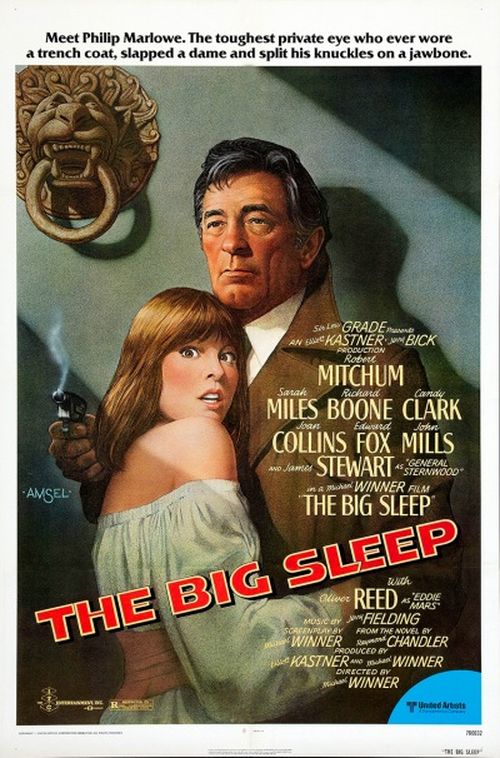 Year: 1978
Duration: 01:35:21
Directed by: Michael Winner
Actors: Robert Mitchum, Sarah Miles, Richard Boone
Language: English
Country: UK
Also known as: Der tiefe Schlaf, Detective privado, Le grand sommeil, Marlowe indaga
Description: Former police officer and now a private detective Marlowe takes on a new case. Marlow is invited to a luxurious mansion of General Sternwood so that he followed a fraud, compromising the daughter of a noble soldier. But what at first glance seems uncomplicated task, turns sinister and confusing tangle of blackmail and murder …
Review: After the success of the film on Chandler "Goodbye my lover" Robert Mitchum second starred in by the product of the author. This time was filmed "The Big Sleep" – a work which had already been filmed with Humphrey Bogart and Lauren Bacall.
Due to the fact that the product known – retell the story makes no sense.
The action moved to modern London, and director of the film was made by Michael Winner. In fact the whole movie is based on charisma Mitchum, who once again as a few years before playing Philip Marlowe, and I must say is very inspiring.
You can only add that the small supporting roles are played by James Stewart and Oliver Reed.
The result: this movie – the usual film adaptation of Raymond Chandler and part remake of the famous film with Bogart. However, the movie is saved and deserves viewing only by the game, Robert Mitchum.
Screenshots:
Download: