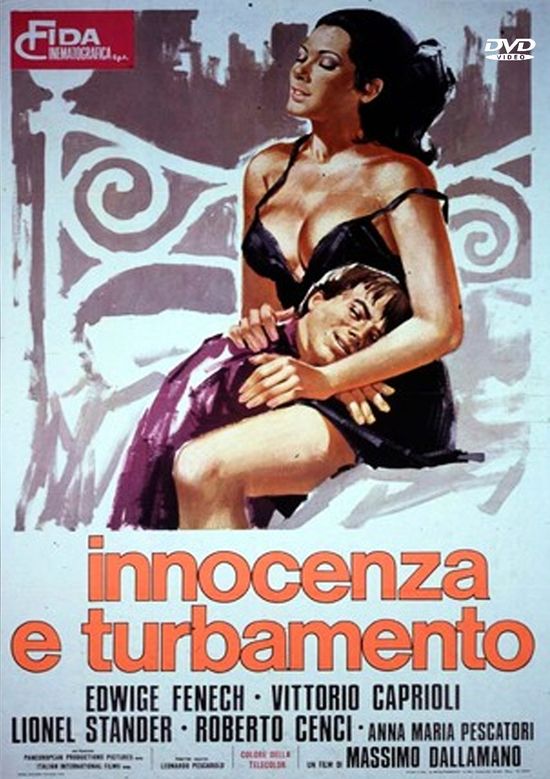 Year: 1974
Duration: 01:31:14
Directed by: Massimo Dallamano
Actors: Edwige Fenech, Vittorio Caprioli, Roberto Cenci, Lionel Stander
Language: Italian
Country: Italy
Also known as: Innocenza e turbamento, Inocencia y turbación, Les tourments de l'innocence
Description: A young man is temporarily home from a Seminary, but eventually falls in love with his father's young new wife.
Review: Edwige Fenech (who starred in Grazie nonna and Ubalda, All Naked and Warm) – one of the most famous in the 70's Italian actress of erotic genre. Daughter of Maltese and Sicilian, owner of luxurious hair, hypnotic gypsy eyes and perfect natural forms for a long time was the subject of sexual fantasies of the European audience. However, in contrast to the same Laura Antonelli, it usually does not go beyond the movie "B". Exception, and that the relative is perhaps the comedy "Ace" with Adriano Celentano, which appreciates our brother.
Often Fenech starred in genre films giallo (specific Italian horror genre with obligatory presence of eroticism), and more often – in erotic comedies. In the parade of slapstick comedy and slapstick Edvidzh usually played the role of teacher or stepmother, maddening lustful teen. Teasing their forms most of the screen time the entire male half of the cast, in the end it almost always gave herself is a young hero. Actually, the youths who survived puberty, most likely, and these made up the audience for the most part stupid comedies and they watched them solely because of nudity Edvidzh. Sami scenes shot in the style of "fulling naked to the music" only occasionally being diluted piquant prelude. Realism and naturalness is not always enough, though the existence of such an actress and has done a very exciting.
However, "Innocence and Desire" is somewhat different from the husk conveyor presence of drama and even some hints on the internal moral struggle of the hero. 14-year-old student at the seminary Tonino and dreams of becoming a priest. On holidays he visited his father, where he meets his young 26-year old wife Carmela (Fenech). Here that have not known a female affection seminarian and demolish the tower. The plot is compounded illness and death of one of the close to both the character, rendering it extremely comedic tone. It should be noted decent game almost everyone except Roberto Cenci (Tonino). Fenech on it does not look lustful gaze of puberty, but rather like some maniac.
Screenshots:
Download: