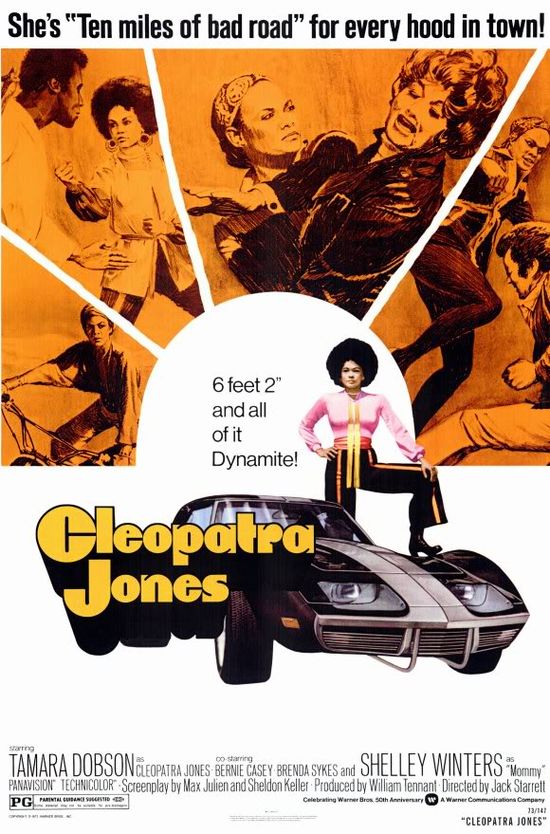 Year: 1973
Duration: 01:28:40
Directed by: Jack Starrett
Actors: Tamara Dobson, Bernie Casey, Brenda Sykes, Antonio Fargas and Dan Frazer
Language: English
Country: USA
Also known as: Dynamitpigen, Dynamite Jones, Kleopatra Jones, Cleopatra Jones – specialagent
Description: Cleopatra Jones – a special agent of the FBI. She is going to stop drug trafficking in the country. She lights a poppy field known drugs baron named Mommy. Now Cleopatra expect big trouble…
Review: A typical blaxploitation. The film's heroine – a charming woman, FBI agent counteracts the gang of criminals who sell drugs. But here the plot is secondary , if not tertiary importance .
In the foreground music. In the film, a very solid vocals from Joe Simon and Millie Jackson .
Obviously, the movie was made against the background of the film's success with Pam Grier . However, soon enough it becomes clear that the leading lady for the film is not suitable .
Tamara Dobson cute and tries hard , but the action scenes with her look ridiculous. The texture is a pretty model, which probably can not imagine how not to behave according to the rules . In general, the film lacks wry smile Pam.
In the role of her opponent , known Shelley Winters . Her talent no doubt , but she looks at least comical. Her game seems too technically , but because – false .
The result : blaxploitation, very average merit. Movies made ​​in the style of "Foxy Brown" with Pam Grier , but unfortunately the actors performing leading roles do not meet the film. To be fair a little memorable work Antonio Fargas , a good soundtrack and the chase scene on the machines.
Screenshots:
Download: