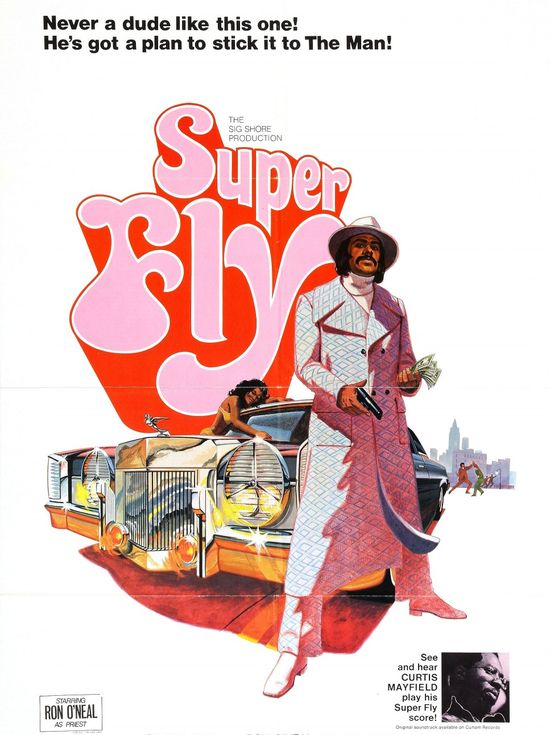 Year: 1972
Duration: 01:28:57
Directed by: Gordon Parks Jr.
Actors: Ron O'Neal, Carl Lee, Sheila Frazier, Julius Harris, Charles McGregor and Nate Adams
Language: English
Country: USA
Also known as: El mercader del vicio, El último golpe, I symmoria me ti hrysi Cadillac, Odlot,Superfly – alamaailman kuningas
Description:
He may make his fortune by and by.   But he'd rather make it quick and get out of the game.  But can he do it?  Will the Man let him out of the life?  If he lose he don't ask questions why.  But the only game he know is do or die.
Anti-hero O'Neal provides a gritty portrayal of an urban criminal attempting to turn his life around.  Although surprisingly short on dialogue, each line is a gem.  Mayfield's soundtrack propels the film towards it's pimpalicious conclusion.  It's a super fly blaxploitation romp chockful of:
Pimps
Hos
Dirty Cops
The Man
Junkies
Various White Devils
Sweet Threads
Sweet Rides
The film "Super Fly" was the first film I scanned in the genre bleksploteyshn . I love American music of the time – the sixties and seventies , however , to learn that the film is composer Curtis Mayfield , immediately understood his need to watch carefully .
And the film , did not disappoint . Not that I was in delight, and it had no bad sides , but positive emotions are still much more.
What can I say , " Super Fly " – a classic representative of the "black" films of the time , vividly conveys the atmosphere and colors of life black citizens of America. And most of these merits , in my opinion , rests on the shoulders 's incredible musical accompaniment, Curtis Mayfield ! ..
Of course , I can not mention the negative aspects . They are present . Places – tightened scene , unclear and , I think , quite unnecessary … However, everyone decides for himself that he is most like or do not like in this movie.
From myself I will say : I believe that this film is worth watching .
Screenshots:
Download: