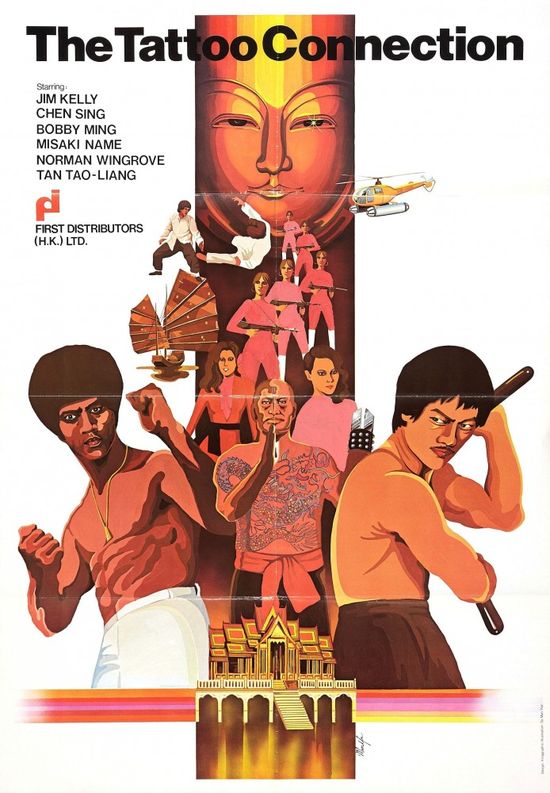 Year: 1972
Duration: 01:28:53
Directed by: Tso Nam Lee
Actors: Jim Kelly, Sing Chen, Tao-Liang Tan, Nami Misaki, Norman Wingrove, Bobby Canavarro
Language: English, Mandarin

Country: Hong Kong

Also known as: The Tattoo Connection, E yu tou hei sha xing, Black kung fu contre Hong Kong connection, Die Bruderschaft des Roten Drachen, Jim Kelly, o mavros tyfonas

Description: Hong Kong martial arts thriller (It is originally: E yu tou hei sha xing).. Noteable for the appearance of American Blaxploitation star Jim Kelly. Also known as Black Belt Jones 2, for international marketing reasons, although this a fabric of lies. The actual film that qualifies as a sequel to Black Belt Jones is "Hot Potato"(1976)
When last we left Black Belt Jones, aka "Black Belt", aka "BBJ", aka "The Afro", aka "Lucas", he had foiled an African-American-Italian gang of mobsters with the help of a trampoline, a sudsy car wash and the strategic turning off and on of light switches. He also slaughtered a hobo's guitar in the name of love, lest we forget. Since then, he's been employed by an insurance company who hopes to utilize his blunt detective skills and high kicking prowess in solving a diamond theft in Hong Kong.
With the help of a few thousand facial close-ups and a funky beat, BBJ smirks his way through a 12-step progression of clue-fight-clue-fight-girl-fight-clue-hairstyle appointment-clue-clue-fight-finale. Considering that he's the only black guy in Hong Kong, he's probably not the most inconspicuous detective for hire, but his style all but makes up for it. 
Screenshots
Download