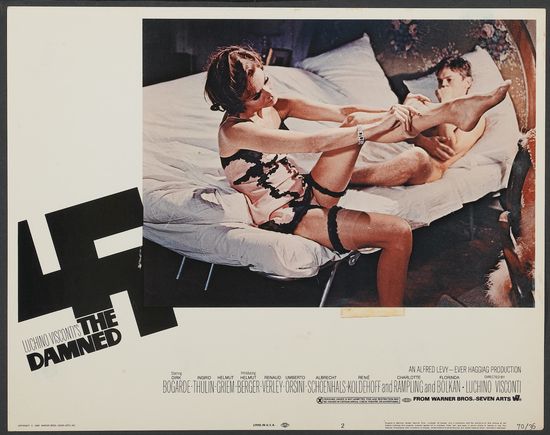 Year: 1969
Duration: 02:37:31
Directed by: Luchino Visconti
Actors: Dirk Bogarde, Ingrid Thulin and Helmut Griem
Language: Dubbed English
Country: Italy | West Germany
Also known as: Die Verdammten (Götterdämmerung), Les damnés, La caída de los dioses
Description: "I chose this moment – the birth of Nazi in Germany" – to tell a story, still retains its relevance: history of violence, bloodshed and the animal will to power. I am doing this film for generations who do not know what the Nazis … "Germany. 1933. Formation of Nazism in Germany in the example steel dynasty "Kings": the death of one of its representatives, and other flight elevation third.
Review: Luchino Visconti's film "The Damned" is in the list of the 15 best films I've ever seen.
No wonder no one – I repeat, no one has yet demonstrated the expansion of the human person, the spiritual and physical death is so fascinating grand. In this film, people's lives are intertwined and fall – and this is happening against the background of the burning of the Reichstag, against the background of Night of the Long Knives.
In the eyes of the viewer is immersed in vice and the whole world is dying, dying – to give way to the new world – capped Nazi swastika. Attentive viewer will see very sources of German fascism. After viewing this picture, I was crushed, scared … and excited.
The film is an acknowledged masterpiece. Visconti, he spent some time in the dungeons of Gestapo, instead of showing a documentary chronicle of what happened during the war and show the consequences and horrors in his German trilogy decided to go the "other" way. He tried to cover the topic of the psychological causes of fascism. A year or two later, the screens will "The Conformist" Bertolucci, and the two films will inspire many followers.
Screenshots:
Download: