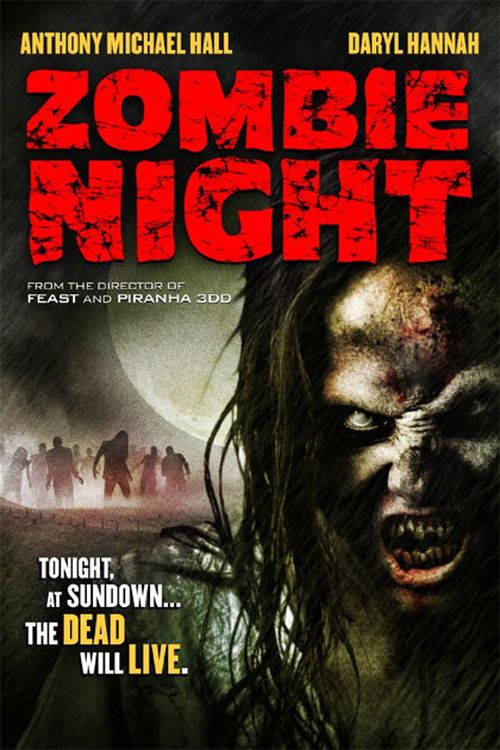 Year: 2013
Duration: 01:25:21
Directed by: John Gulager
Actors: Anthony Michael Hall, Daryl Hannah, Alan Ruck
Language: English
Country: USA
Also known as: Dark Night of the Walking Dead
Description: Tow suburban families must become ferocious fighters to resist a zombie rising.
The film follows the stories of members of two families; neighbors, in the united states where the dead rise, in the form of zombies, for a whole night, the two groups will have to survive until dawn, time in which, according to rumors from Europe attacks cease.
"Zombie night" is an American television horror film of 2013. Starting to watch this film, I was not expecting too much from it nothing outstanding and the supernatural, but such a failure and sludge, I did not expect.
We see a small California town, and here at night from the grave rose the dead and attacked people. The night will be long, and the heroes will have to fight for their lives. In front of us one family that tried to survive and horror experienced this ominous night…
I must admit that this movie sucks. The movie is so willfully, that just want to forget and not think about it ever. I have not seen any hints of realism in this film. All willfully and falsely. Each scene is incredible affectedness and terribly, terribly banal. This whole movie is one big disappointment. I wonder, do the creators of this movie didn't realize that the movie is just stupid and empty. There is nothing, a vacuum, and stupidity.
The cast was inferior and little-known. Only Daryl Hannah is known to a large audience. I like this actress. She used to play good and different movies, but recent years had played in only one garbage. Even sad for her. In addition to her in this film, no one remembered and no one is impressed. Moreover young actors too overacted.
If You want to watch movies about zombies, then watch the movies "Resident evil" or the cult TV series "the Walking dead". This film attention is absolutely not worthy. Cinema is empty and meaningless. He belongs in the trash. "Zombie night" — a second-rate horror movie, the movie is empty and mediocre.
Screenshots
Download