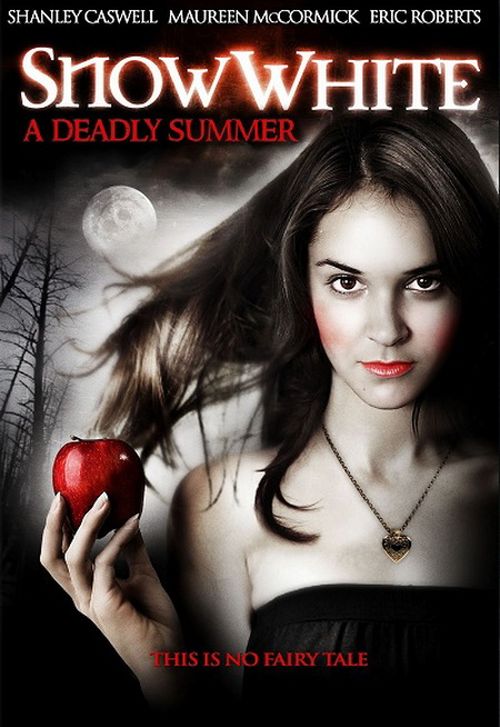 Year: 2012
Duration: 01:23:18
Directed by: David DeCoteau
Actors: Maureen McCormick, Eric Roberts, Tim Abell
Language: English
Country: USA
Also known as: Snow White, Snow White: Curse of the Axe Man, La véritable histoire de Blanche-Neige

Description: This film is a modern variation of the famous fairy tale of Snow White. A girl named Snow was kidnapped by assisted wicked stepmother and taken to a forest camp, where her seven fellow prisoners start dying one by one. Snow must uncover the secrets surrounding the terrible forest before she becomes a victim of the unknown.
Review: Something in the 2012 America obsessed with Snow White. The theme of this tale is not long been popular until there were two completely different versions of this tale. I'm talking about "Revenge of the Dwarfs" and "Snow White and the hunter." Of course, the guys from Asylum happily wrote their version (full Faile, even for Asylum). And suddenly I find that the worst director of the World (the title I gave myself to him) opened the fourth version! Well, that even with Asylum, it is difficult to compare …
So, we have slurred tyagomotina David DeCoteau "Snow White: A Deadly Summer". It is noteworthy that in Germany, the film was released, entitled simply "Snow White." But there's at least someone decided to publish this misery on DVD, we have the same film is available only in translation Andrew Dolsky (well, and who, if he is not?).
In the story a girl named Snow, sent to labor camps. This is where it starts and wild tyagomotina that will not let go until the end of the film. There would be some murder, conspiracy, attack on mysticism. Murders unlikely, no blood at all. Rating of the movie PG-13, so of course, it's not blood, no nudity, partially rescued this movie would not.
Of course, spotted branded chip DeCoteau – meaningless conversations. The film is 83 minutes, including 6 minutes – titles have ended up with 77 minutes. The first 15 minutes are kind of pulling in the film, but that's more chatter begins. DeCoteau just had to hang on to those 77 minutes that his work is not a short film called them. Budget initially and was not at all – was shot in the forest-park zone, and only there. What the film does Eric Roberts – is unclear. Yes, this is a cheap actor, for mega-poor films, but where did the money DeCoteau and Co. to Eric – that I was not clear. Budget – worse Asylum and every other TV-3. A translation Dolsky as usual – that is, what a movie – and a translation. But still thank him.
The film does not recommend anyone to watch, because it's just a waste of time. In DeCoteau I still watched only one watchable movie – "Puppet Master 3" – where he took something. Imagine what it looks like his new work of 1313 – a month when he slaps on the film. Terrible, do not look.
Screenshots:
Download: