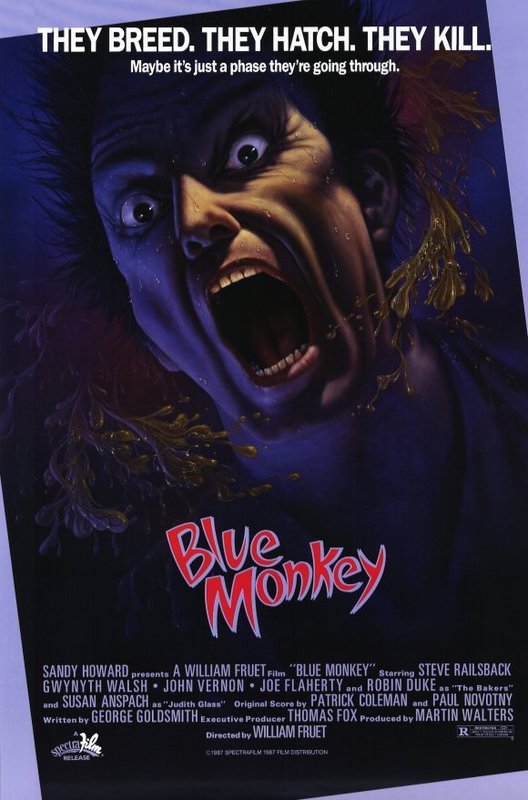 Year: 1978
Duration: 01:37:58
Directed by: William Fruet

Actors: Ivan E.Roth, Steve Railsback, Gwynyth Walsh

Language: English
Country: Canada , USA
Also known as: Insect ! , Blue Monkey, Green Chimp, Hyönteinen, Insect , Inseminátor , Invasion of the Bodysuckers, Niebieska malpa, O Inseto
Description: What happens when an old man, cut by a strange plant, pukes an insect larve which is accidentally fed growth hormones by a group of mischevious kids?  You get …BLUE MONKEY, a visually impressive Alien rip-off (one containing 0 blue monkeys). But watch out for a very tiny Sarah Polley (Dawn of the Dead) doing a very bizarre walk, somewhat resembling a monkey, i guess.
Quite an interesting film by canadian Director William Fruet, the author of «Deadly Parties» and «Funeral». But if the last two were slashers, now the viewer will meet with monster insects. Bugs are made with the help of mechanical dolls, which can not but rejoice, and they are made for glory. The insectoids are very bloodthirsty, and all the habits of the «other». For example, they use people to breed, and their uterus sounds a bit like the Queen of the famous movie Cameron.
The setting of the movie's hospital, very well chosen, and watch running in panic patients and heroic attempts of the main characters is very fun. There will be a number of bloody and brutal moments, one of which made me a very strong impression. It's about a scene in which burned cocoons, inside of which are still alive people.
Have film and cons. First, is the fact that the hospital was simultaneously more and scientific-research complex and in one of its rooms was a laser installation, painfully this is far-fetched. The second drawback is the transformation of insects in giant monsters. You can probably was otherwise all this beat. Well and the third minus is the number of monsters. There was of course much, but that's a whole mess made only one. Whether to get more of them, it would be much more fun. Oh yeah, and another thing, I never understood why the film got such a name.
Screenshots:
Download: