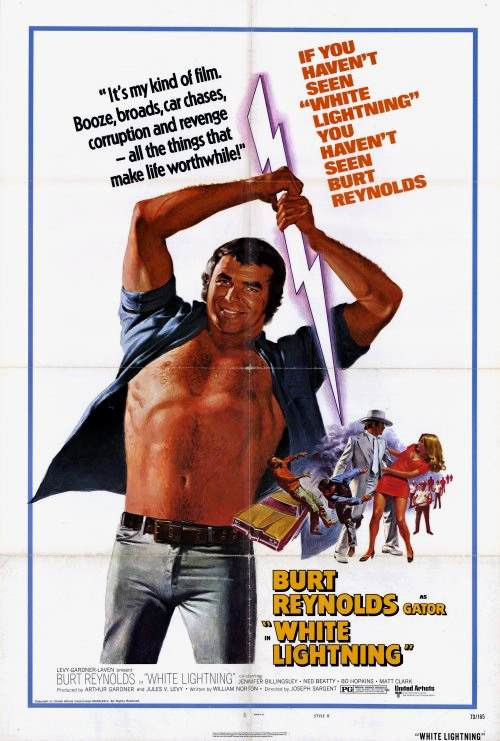 Year: 1973
Duration: 01:41:10
Directed by: Joseph Sargent
Actors: Burt Reynolds, Jennifer Billingsley, Ned Beatty, Bo Hopkins and Matt Clark
Language: English
Country: USA
Also known as: Beyaz simsek, Biala blyskawica, Der Tiger hetzt die Meute, Hvid feber, Kör hårt, McKlusky!, Lefki astrapi, Les bootleggers, Los traficantes
Description: " White Lightning " in the language means moonshine bootleggers . In the eponymous creation of Joseph Sargent , moonshine is the central character , without which no cost, no one frame , and that it is being the whole plot of the movie. Gator McCluskey ( Burt Reynolds ) , a former bootleggers , now a prisoner in a prison in Arkansas. Upon learning of the death of his younger brother at the hands of the sheriff from a neighboring county , he is trying to get even for the loss and is cooperating with the feds . His release from prison and now , under cover, he again begins to haul moonshine simultaneously collecting evidence against the sheriff , which is under the control of the entire "network" bootleggers .
The main advantage of the films – Burt Reynolds , as clearly stated slogan of the film. Despite the similarity with the trilogy " Smokey and the Bandit " neither comedy nor a black Pontiac Trans Am well as Reynolds mustache , should be expected. Instead , the abundance of a Ford sedan , provincial America 70s , decent staging car chases and moonshine , which the locals drink directly from cans . Very colorful , complementing the atmosphere of the southern states , yielding a composition by Charles Bernstein , which were subsequently used in the Quentin Tarantino "Kill Bill " and " Inglorious scum " and a year later – issued on a separate disk .
Understand why the movie few people know is not difficult , it just frankly outdated , as does the illegal moonshine . Story would get a warm welcome , whether in this all share at least some comedy or , in extreme cases , the presence of muscle . And so, four years later came the continuation – " Gator " has not won laurels legends and soon came to the rescue , " Smokey and the Bandit ", where , in addition to comedy, attended Pontiac Firebird – a symbol of the future trilogy , finally buried with his Gator McCluskey Ford ` th LTD.
Screenshots:
Download: