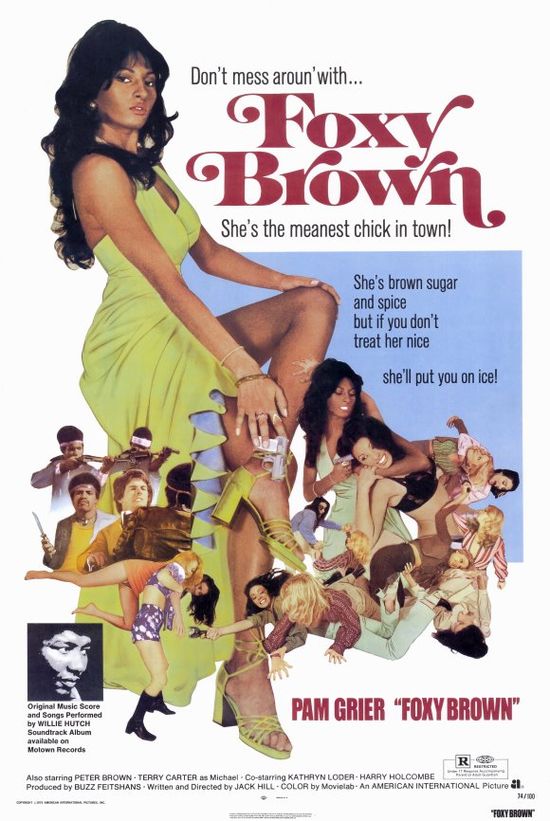 Year: 1974
Duration: 01:31:37
Directed by: Jack Hill
Actors: Pam Grier, Antonio Fargas and Peter Brown
Language: English
Country: USA
Also known as: Foxy Brown, i mavri tigris
Description: " Foxy Brown " – is one of the earliest films with Pam Grier . Originally the film was conceived as a continuation of the largely successful " Coffey ", but the director D. Hill rewrote the script and renamed the main character . Thus was born " Foxy Brown " – a typical representative bleksploteyshna 70s . Starring the star of " Coffy " – Pam Grier . And still can be seen in the film Sid Haig , a wonderful actor who is able to draw on themselves , even the most weak draft .
What I liked in the movie : cool music and retro- chic atmosphere. Seen over the years, " Foxy Brown " was just better , and now all his faults imperceptibly turned into advantages. Like a shooting and editing , but they are quite typical for the time. Nothing outstanding …
What I did not like the movie : no plot, which was in abundance in " Coffee ." I also did not like the creators of " Foxy " treated with the heroine Pam. Her character somehow became uninteresting cardboard . Directed vengeance exploits poor Grier and her naked body . And if the " Coffey " it looks "in the subject " , then there is more than annoying. Synopsis some dull : Foxy girl lives cool , laid her brother , Man killed her , revenge, revenge, revenge … Somewhere it has been ?
In general, Pam Grier turned into some sort of James Bond, but I do not like it . Though, perhaps , to those who are not familiar with the original (ie, " Coffy "), this film will appeal . For all its shortcomings , it also has a number of advantages . This as mentioned earlier atmosphere and installation, individual episodes featuring Sid Haig and Grier , music and dialogues . Very cool dialogues in the spirit of Quentin Tarantino .

Screenshots:
Download: