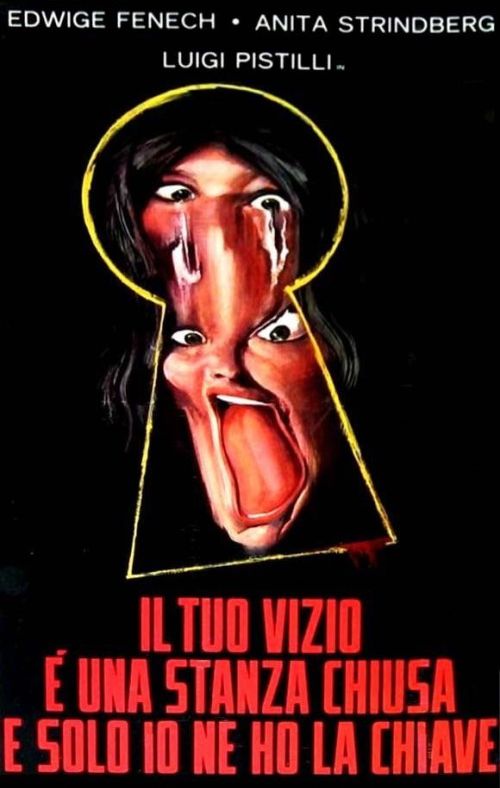 Year: 1972
Duration: 01:36:42
Directed by: Sergio Martino
Actors: Edwige Fenech, Anita Strindberg, Luigi Pistilli
Language: Italian
Country: Italy
Also known as: Il tuo vizio è una stanza chiusa e solo io ne ho la chiave,Excite Me,Eye of the Black Cat,Gently Before She Dies,Ton vice est une chambre close dont moi seul ai la clé
Description: 
"Your fault – a locked room , and the key I have one " – a quote from an earlier painting by Sergio Martino " Strange vice of Mrs. Ward ," became the name of the tape . This phrase is very clearly describes what will be discussed in the film.
Martino raises a very sensitive issue – the question of family life a nightmare . Tired of each other spouses whose life is full of unfulfilled hopes , disappointments and resentments . They live together in a remote town from the house. Only black cat head of the family is sometimes violated their peace.
Against the background of this intense picture, people start getting killed women. The main character, who is suspected of them, completely withdraws into himself . He drinks a lot and lives in a fantasy world , but what else to take with the writer, who has a lot of stress .
Soon to come home to the heroes of his young and beautiful niece . Here the film comes alive , because it plays Edwidge Fenech . It just so happens that it is no coincidence Martino provide Fenech erotically saturated insidious role of seductress . In his paintings Edwidge Fenech looked just perfect , creating a special energy . Surprisingly, no films in Dario Argento, Mario Bava's none – Fenech did not show anything extraordinary .
Other actors also fit perfectly in this tense film. Anita Strindberg was just wonderful in the role of his wife. Nervous , willful and impetuous Strindenberg if she was born for this role.
But the truly significant role played by Luigi Pistilli . This very character actor often limited to a small expressive roles ( including in Sergio Leone's "dollar trilogy "). But having the opportunity to play a major role – Pistilli flashed .
The result: in fact, despite the proximity of this to the genre giallo, before we present psychological research . It's nice that the storyline is based on the classic literary work . After all , the whole structure was built by Sergio Martino , is nothing but an interpretation of the "Black Cat " by Edgar Allan Poe , but with the original ending , and in the style of giallo.
Screenshots:
Download: