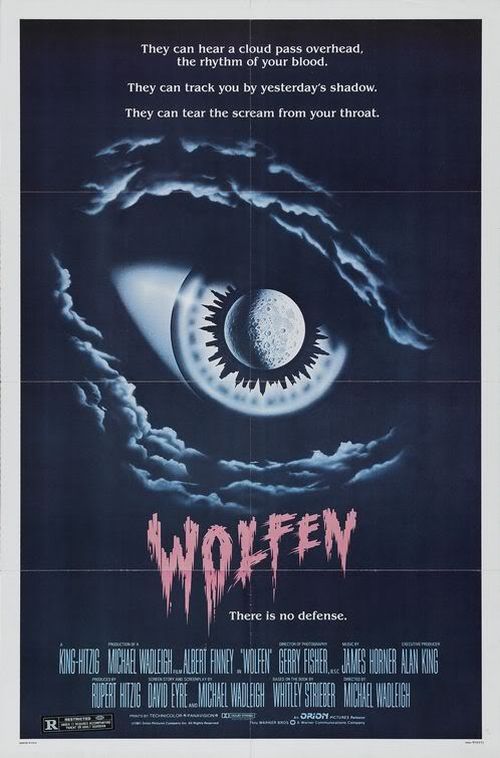 Year: 1981
Duration: 01:54:04
Directed by: Michael Wadleigh
Actors: Albert Finney, Diane Venora, Edward James Olmos, Gregory Hines and Tom Noonan
Language: English
Country: USA
Also known as: A farkas, Cidade em Pânico, Lobos, Lobos humanos, Volkovi, Vukovi, Wolfen – La belva immortale
Description: Wicked werewolf film with some stunning New York cinematography by British cinematographer Gerry Fisher. The city looks really barren and desolate in winter.
Albert Finney is great in a horror film as a washed-up detective trying to figure out what's going on.
Atmospheric horror-score by James Horner that predates his thunderous score to Aliens.
Great script with some humourous touches.
"So who collects brains?"
Some very well-done gore SFX. Wolfen has a great story and some solid scares, with plenty of scenes to give you the creeps.
What makes Wolfen effective is the way we see the werewolf. We see glimpses of it and it's P.O.V. will really creep you out.
"So what's new on the international multilation front?"
Edward James Olmos. WARNING: Wolfen containts a naked Admiral!
Review of Wolfen movie: The film is worth a look. For fans of " American Werewolf in London ," the more "Wolves" on the same screen came in 1981.
Adequate , reasonable plot that keeps in suspense until the end of the film , the acting is great and normal (for its time) special effects .
But to become as iconic as the " American Werewolf " , he failed reasons in my opinion somewhat
One of them – it's out in theaters in one year, and after the "American Werewolf in London " , the audience could not help comparing both films and not in favor of the " Wolves ".
Two similar film on the same topic in one year too much.
Screenshots:
Download: