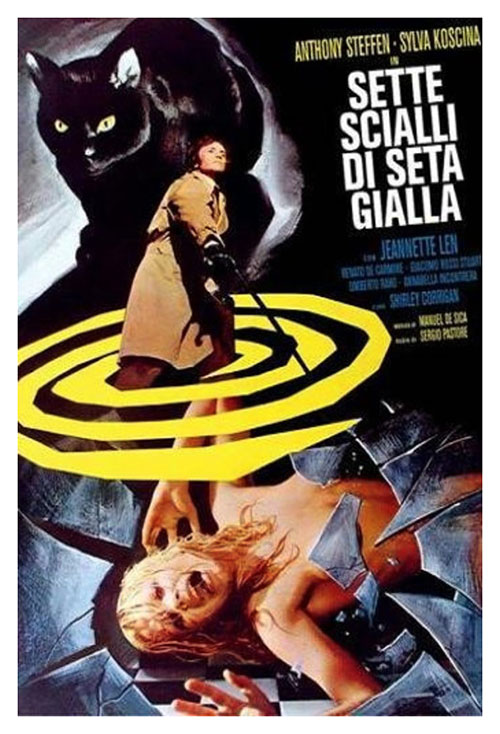 Year: 1972
Duration: 01:34:36
Directed by:  Sergio Pastore
Actors:  Anthony Steffen, Sylva Koscina, Giovanna Lenzi 
Language: English
Country: Italy
Also known as:  Seven Shawls of Yellow Silk, Sette scialli di seta gialla, 7 mord i København, Eglimata tis mavris gatas , O dolofonos me ti mavri gata, O mavros gatos ekdikeitai, Crimes, Los crímenes del gato negro, Os Crimes do Gato Preto, Seytanin kizi
Description: A more recent print of Sergio Pastore's over-the-top giallo, and a much sought-after title.
This one looks way, way nicer than the shoddy, damaged Dagored DVD print that came out some years ago, and also the full-screen Greek VHS that was the only way to see this movie before that.  Plus, it has the option of either English dub, or English sub.
The story, which giallo buffs will know already, is inspired by Argento's CAT O'NINE TAILS, in which a blind man (Anthony Steffen) overhears a conversation that then gets into a full-tilt murder investigation.
It seems that a serial killer is using a cat (with its claws dipped in curare poison) as a means to kill fashion models.  And further investigation yields a complex web of blackmail, adultery, drug addiction, silly killer motivations, and other convoluted improbabilities that giallo movies are often inclined throw at you.
Though the film is largely muted, it has a good visual sense, excellent use of Copenhagen locations, a superb Manuel De Sica soundtrack – and only through widescreen can you appreciate just how well shot and stylish this movie is.
Then, it gets really nasty towards the end, specifically with the notorious 'shower murder' scene – which is as nasty, and as hideously graphic as anything you'll see in, say, Fulci's New York Ripper.
Review: In the early 70-ies of the last century, was shot several films, claiming it to be the ideal model of a kind of Italian genre Jalloh. And "Crimes of the Black Cat," without a doubt one of them. There is almost everything that "you wanted to know about giallo, but were afraid to ask": a series of similar one for the other murders, the majority of victims are women, an amateur detective who becomes such by coincidence, companion detective on which the killer in what-a personal point begins the hunt; minimal participation in the events of the police, who always appears the finish; confuses the blissfully tangle of evidence, which is cut in the final one decisive blow, ideally with shocking consequences of the viewer …
Screenshots:
Download: