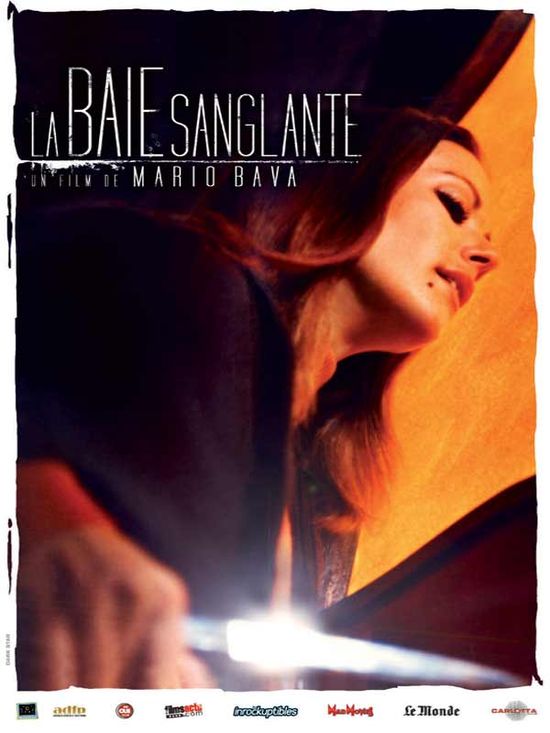 Year: 1971
Duration: 01:24:19
Directed by: Mario Bava

Actors: Claudine Auger, Luigi Pistilli, Claudio Camaso and Anna Maria Rosati
Language: English (Dual Audio with commentary)

Country: Italian
Also known as: Reazione a catena, Twitch of the Death Nerve, Bay of Blood, Bloodbath

Description: Although I recall seeing Black Sabbath as a Saturday afternoon Creature Feature as a child, I was unfamiliar with Bava until I saw the second half of this film years later one night on cable.  If you have not yet seen it I will not spoil one of the greatest endings ever filmed.  It is sufficient to note that after seeing only the second half of Bay of Blood I became very interested in seeing what other horrors this strange man had concocted.
As noted above, although there is much blood in Bay of Blood, Chain Reaction is a more fitting title.  The film's reputation as the midwife of the slasher genre might lower the expectations of the viewer.  But, other than the kills (many of which were later lifted directly from this movie), Bay of Blood has little in common with the nihilism of slasher films.  The film is about greedy, craven, and vicious people who, one by one, get their comeuppance.  In a beautiful rural setting a stone's throw from a lovely bay, the characters in the film can only think of the ways in which they might materially wrest profit from nature and their neighbors.  There are few, if any, innocent bystanders.  And the wages of sin, in this wonderful film, are death.  To say more would ruin your viewing pleasure.  So please download and enjoy.

Review: Mario Bava's Bay of Blood can be seen as an exception to the typical giallo formula. He's seriously downplaying the murder mystery aspect. Even though the film does have a whodunit structure, atleast for most part, making it a bonafide giallo, it's not what makes this film unique. Bava's unwillingness to submit to the clichés of the era and concentrating on the suspense and murder scenes makes this film stand above the mass of gialli released the same year. In the process of doing this Bava managed to create a predecessor to slasher (or so-called bodycount) horror films. This highly influential giallo / horror film is a great Halloween movie. It's gory fun and full of twists and turns starting from the opening scene. Also it's one of my all-time favourites.

Screenshots:
Download: