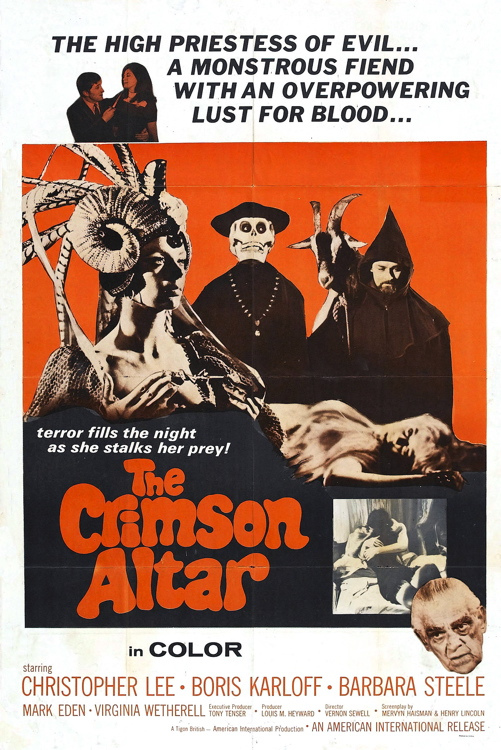 Year: 1968
Duration: 01:22:34
Directed by: Vernon Sewell
Actors: Boris Karloff, Christopher Lee, Mark Eden
Language: English
Country: UK

Also known as: A Maldição do Altar Escarlate, Black Horror – Le Messe Nere, Der Fluch der Hexe, Die Hexe des Grafen Dracula, Kuoleman alttari, La maison ensorcelée, La maldición del Altar Rojo, Le messe nere, Monstret i skräckens hus, O pyrgos tou tromou, Oi vrykolakes stinoun horo, Schwarze Messe auf blutrotem Altar, The Crimson Altar, The Crimson Cult, To spiti tou tromou
Description: A strange little flick, where British gothic horror was meeting psychedelic pop cinema. It's mostly worst for matching Christopher Lee, Boris Karloff and Barbara Steele together on the screen. 
After the disappearance of his brother, Robert manning goes to the house in the middle of nowhere, where my brother gave in last time. The owner and his niece externally hospitable, but manning feels that something is wrong. Moreover, these sites are known legend about a witch with Gray wetlands.
Review: Robert manning, searching for his missing brother, arrives in a small English town, where were the latest news from my brother. However, Robert in this town will not only hospitality, but also a terrible secret, attracted over it for centuries.
Film «Curse of the Crimson Altar» was shot in 1968 little known by British Director Vernon Sewell. «Curse of the Crimson Altar» is a rather free interpretation of one of the stories of the classic horror literature Howard Phillips Lovecraft, and so free, and sometimes inappropriate free that original «Dreams in witch house» in the picture there is a little left for me, this film was rightfully worst adaptation of prose Lovecraft, for even the paintings created in the 80-90s Brian and Stuart Gordon, produced in me a greater impression(though this film and tape Gordon have in common action to modernize the prose writer).
One of the few advantages of this picture, I can name a wonderful cast includes unconditional veterans of the horror genre of the great Christopher Lee, Boris Karloff (Black Sabbath and Howl of the Devil) and Michael Goff, very convincingly played their characters.
Not bad also in the movie and the soundtrack, written by composer Peter knight and skillfully forcing in the movie suspense.
But overall, the film Vernon Sewell is very weak even as horror, so I recommend this movie to watch, just out of curiosity and only fans of thrash metal classics, no way this movie is.
Screenshots:
Download: