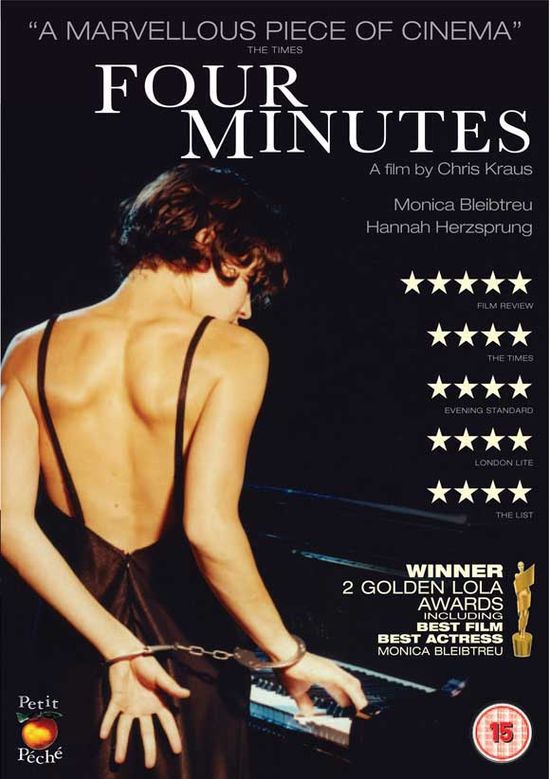 Year: 2006
Duration: 01:50:05
Directed by: Chris Kraus
Actors: Hannah Herzsprung, Monica Bleibtreu, Vadim Glowna, Sven Pippig
Language: German (English subs)
Country: Germany
Also known as: Vier Minuten, 4 Minutes, 4 Minutos, Quattro minuti, Nur für Mozart
Description: An elderly woman settles into a prison for women as the piano teacher. On the lessons are written four prisoners, one of which was hung, the other nervous, third unremarkable, and the fourth has a gift of God to give the regular piano great sound.
The teacher could not believe that such a goner, rotted in the four concrete walls can by a musical instrument to play so well joyful black music, in spite of all his misfortunes and instituted it for the murder case. Elderly teacher sees her gift and gives her a helping hand by offering to develop talent and give her a chance to play at some concerts for young composers.
Review: "Four Minutes" – the film is not for the faint of heart. He keeps in suspense from beginning to end. There is no room warmth, tenderness and affection. One solid bare nerve. High-voltage cable, touching which can easily faint.
Laughing, munching popcorn and talking with friends, not work. You watch the tape in silence, with his mouth open, you forget about everything. And slowly into darkness along with the characters Kraus.
Learning the art of playing the piano, 80-year-old Kruger, cold and nasty as frozen fish for a long time causes unpleasant emotions. In order to understand its behavior, we have to wait for the development of the story line.
Gradually it becomes clear that the heart of this person was lacerated terrible events. Fog dissipates around her past, and the deeper the viewer looks at this very past, the stronger the feeling that plunged into the underworld. Soul Frau Kruger – one long laceration that is constantly pours salt in the form of terrible memories, a gloomy picture of the past.
But she managed to get into a heavy-duty armor. It is closed, no one does not admit to themselves, selflessly given to the beloved. This continues for as long as the student does not get Frau Krüger sheer Wild Child Jenny von Leben.
Between them over time established a relationship, although the two do not notice it. They have much in common, they are very similar to each other. The only difference is that if Kruger grief drove into his shell, then Jenny's rages and fumes like a tiger in a cage, and her anger always breaks out. Because of this hurts us all, one way or another connected with the prisoner.
Yes, the events take place in a women's prison. Jenny sits behind bars on charges of creepy. Such as it is, people usually say – a beast in human form. If you mean it brought forth ourselves, it can stay without an eye. Or with the stab wound. Its nothing to penetrate. Even suicide by hanging himself in a cell, and that Jenny is like hanging on the rope a rag doll.
In prison Kraus laws wolf pack. Survive in this hell are only strong in spirit. Here you go on the edge of a precipice with a blindfold. Step aside – and you smash into smithereens. Jenny goes on the edge, with a grin, she likes it, she's here in his element.
But there is still one thing that is still some value to Jenny. And it's the music.
Screenshots:
Download: