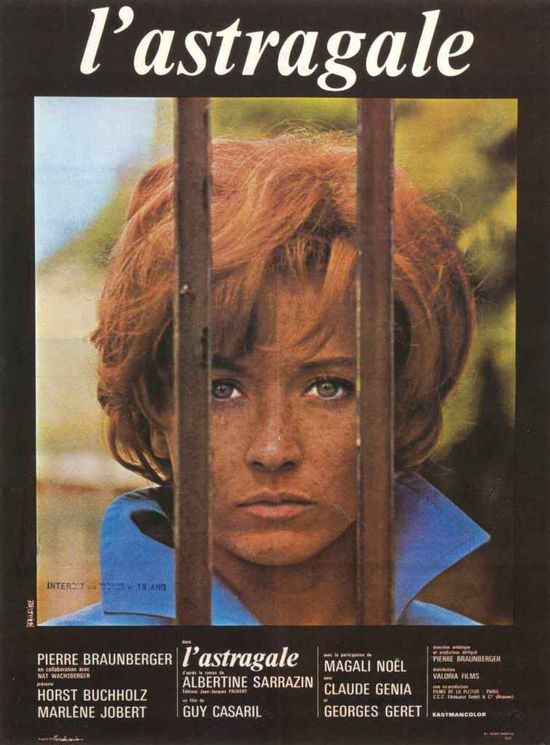 Year: 1968
Duration: 01:36:47
Directed by: Guy Casaril
Actors: Horst Buchholz, Marlène Jobert, Magali Noël, Claude Génia
Language: French
Country: France
Also known as: Astragal, Ankle Bone, Karkulainen, L'astragalo
Description: Sometimes it is impossible to explain why, for example, one film gets fame and popularity in the years ahead, and the other is in oblivion. Even if we assume the existence of a great and universally recognized masterpieces (though to investigate the mechanisms of this "general acceptance" would be a very interesting occupation), all the same reason of being in total obscurity, such as Guy Kazarilya debut film "Fracture" a rational way will not work. A screen adaptation of the autobiographical novel by French writer Albertine Sarrazen he turned just in sight for sore eyes: atmospheric drama about a love / hate relationship of two extraordinary people with great actor's work in no way inferior to the famous film by Claude Lelouch "A man and a woman." Is that does not carry the glamorous shades – rather the opposite: as if drawn by impressionist painter, Barfly Montmartre abroad XIX-XX centuries and amateur wormwood liqueur.
Impetuous strokes on poorly primed canvas Kazaril brings to the screen the story of a crazy life Sarrazen Albertine, which by itself, without any of the novel, looks like having coined the overly imaginative writer plot. Algerian foundling, adoptive French family, from early childhood characterized unstable behavior, she was placed in a school for maladjusted adolescents, ran out, hunted theft, robbery and prostitution. Went to prison – was running, breaking with his leg. Met the same adventurer again – theft and looting … Again prison. The release and quick death at twenty-nine years of which she spent in the wild is less than half. But managed to write three novels and several volumes of poetry, full of spontaneous protest unbalanced, but incredibly talented soul against the grayness of everyday life and the existing world order.
Such play their Anna Marlene Jobert. Its heroine – she is incredibly strong, and yet helpless to the outside world, which pushes her away and thrown to the side of the one that does not want, does not want to live "like everyone else". Anna should every moment of life to feel the adrenaline – so it can not, unable to calm down and take a quiet love Julien. The person with whom, it seemed, brought her own destiny. During the escape from prison, Anna, like the author of the novel, broke her leg and was totally helpless. But Julien picked it up on the side of the road, covered, hid, cured … That's just take it selfless care of themselves Anna can not. And suffer from it. Thanks for his turns to love, but love does not have the visual sensations to which Anna used to it, and it slowly flows into hatred. In an effort to destroy the emerging cozy little world, to live in which Anna can not and does not want. She goes looking for adventure on the side, again recalls the theft and prostitution … Finally, find another person who is also capable of true and selfless love her. But can not understand that to love Anna – feeling too terrible. In which it fears dissolve and lose their "self."
But in the restless, constantly changing emotions, in a monstrous risk, which turns every step: for old and new crimes have not gone away, and the police continued to search for Anna, getting closer and closer – she lives. And he loves. She did not understand it … The audience did not understand too – so precise in their way of Marlene Jobert. Actress, about which, speaking of the 60's of last century, remember not so often. Maybe because the movie was pretty Kazarilya forgotten. And the acting duo with Horst Buchholz in the "Change" did not happen. Somehow looks dull and gray Julien played German actor amid seething passions of Anna. So it is, of course, and it should be. His calmness and willingness to accept the favorite for what it is, interspersed with lush artistic nature of Anna, are the backdrop for soloing Jobert. But I always want more.
Screenshots:
Download: