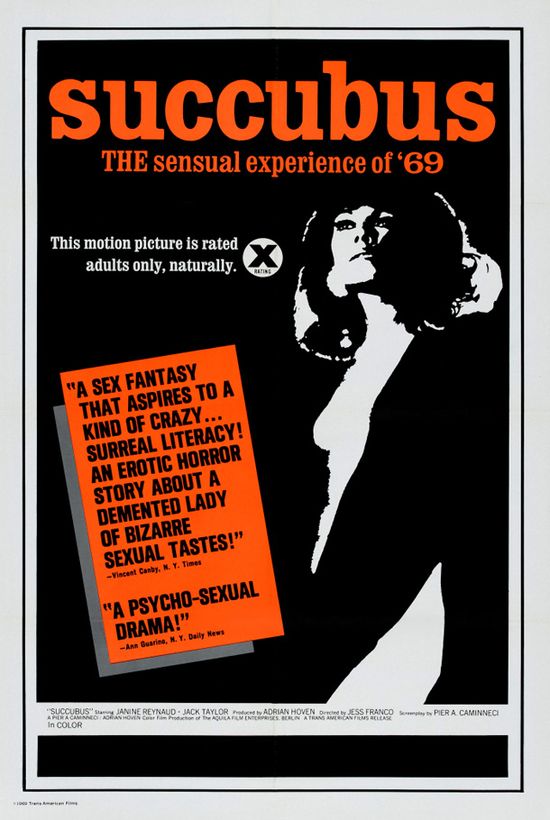 Year: 1968
Duration: 01:18:23
Directed by: Jesús Franco
Actors: Janine Reynaud, Jack Taylor, Adrian Hoven
Language: German (English subs)

Country: West Germany

Also known as: Necronomicon, Delirium,  Les yeux verts du diable
Description: Lorna – the actress, who lives with her lover, director, travels to Europe, spending time at social get-togethers. But she has a vague world where it is both seductress and murderer, succubus, attracting victims of their sexuality. Whether this is related to the shadowy world of reality?
Review: Here we have a tantalizing rarity sure to please Jess Franco aficiandos: the rare German-language director's cut of the cult movie generally known as "Succubus." This one goes with English subs.
Since its first arrival on home video, "Succubus" has replaced "Necronomicon" in circulation, because people generally don't realize it's not only dubbed but a wholly re-edited version of the picture that does not represent Franco's intentions. The movie was largely produced with German money and this German version, while not quite perfect, still far better approximates Franco's vision of the picture. "Succubus" was edited in the US at Film Rite, Inc. under the direction of Terry Vantell and produced by Titra, the New York-based dubbing company under contract to American International, who distributed the film through one of their sub-divisions, Trans-American Films. Titra also used another moniker, Titan Productions, Inc., presumably to avoid association with X-rated product.
I can't point out all the differences between the two versions, but "Necronomicon" – despite including noticeably less nudity in its early scenes – flows much better, making its storyline easier to follow even if you don't speak German. I don't speak German, yet I was able to notice a number of differences in the dialogue and narration; for example, Howard Vernon mentions Robbe-Grillet at one point during his word association game with Reynaud, which he doesn't in "Succubus". Also, this version doesn't include any of that Faustine-related narration at the end, which is followed here by some exit music. You'll also notice that this cut is somewhat more violent, more acid gets consumed at the party, and it's much more musical, being scored pretty much wall-to-wall and in a more prominent mix. This is definitely Franco's trippiest movie and if you're well acquainted with the more familiar version, this alternate cut should send you on a pretty sweet trip.
Screenshots:
Download: