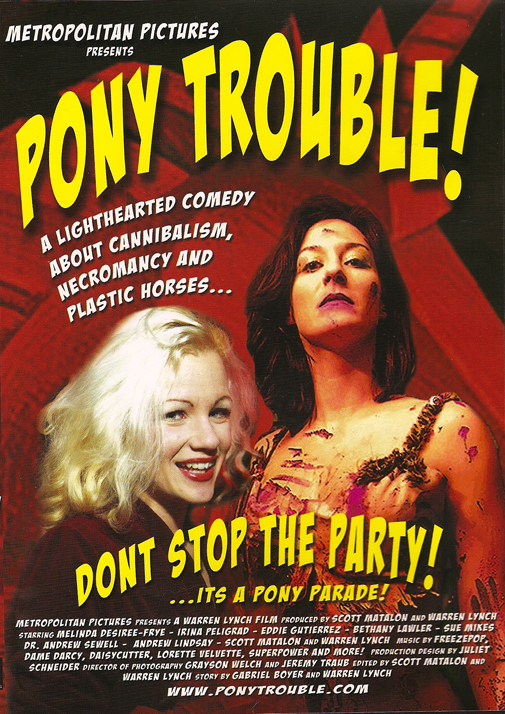 Year:  2005

Duration: 01:37:14
Directed by:  Warren Lynch

Actors:  Melinda Desiree Frye, Irina Peligrad, Scott Matalon

Language:  English

Country:  USA

Also known as: 
Description:  A story about a bunch of young adults who take their plastic pony obsessions way too far and end up killing people, eating their flesh, and raising the dead. All while prancing around in unicorn outfits and stuff like that.
I'm watching some of Pony Trouble while i eat my breaklunch then going to figure out some AVH shit. So far the best intro every, hot girl beating the shit out of the gayest carebear in her panties and I fucking love the music too at least with the scene. Even though the girl has a small white girl butt (which I fully endorse) she manages to wack the bear so hard she does a butt clap, a sexy sexy butt clap.
What happens when a bunch of 7's talk four guys looking to get laid into doing a movie???
This is like someone made a movie about all my ex-girlfriends only instead of Beck obsessions its ponies and instead of drugs… Well no the drugs stay the same. Just needs a girl chasing a guy with a car while texting him about how she's gonna kill herself… .
Jesus Christ! What the fuck do you say about this, I don't even think its a bad movie its just fucking insane. So much is going on too most of it make no sense… Well in a weird way it does. I mean this is well worth watching. I fell in love with every girl in the movie except the fat one and the crazy they get the deeper my love goes and holy shit do they get crazy.
maybe i'll do another MSpaint video but I'd hate for that  to get old. Then again practice makes perfect who knows i'll give it a shot and if I like it i'll post it if not whatever.  I just have no angle to attack this to try and explain what's going on with words would take a novella.
It starts out with some fucked up pony LARPER winning a tv contest so her and her friends they get some  larping gear while a camera crew follows them around. Then run around doing shit loads of drugs and fucking each other (no nudity), then suddenly start murdering and raising the dead. Jesus christ, jesus fucking christ few movies have baffled me as much as this. Its truly a Zgrade gem.  Now they are fighting some crazy Pony larping death squad. I don't know I need to figure out an angle of attack here.
I honestly don't want to ruin a second of this film like I openly do with every film I write about. Pony Trouble starts sexy, then gets all Fear and loathing which slowly turns to a murderous horror film, then to a cheese 1976  gory Thai martial arts film, and ends as a 60's version of a music video. Still a little boring though I'm not sure how
Screenshots
Download