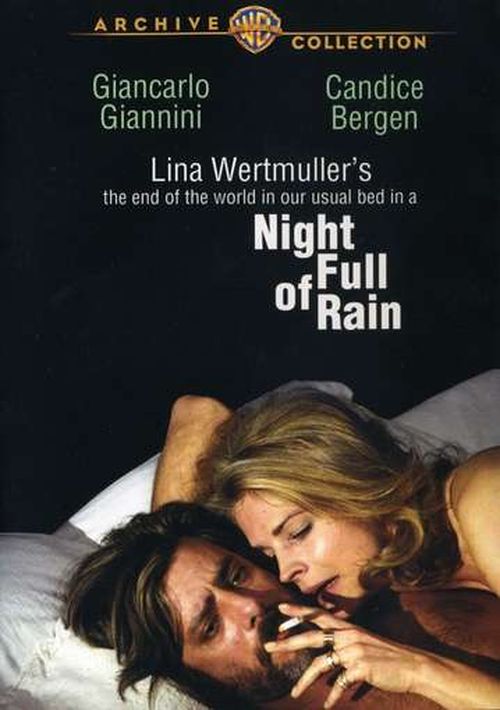 Year: 1978
Duration: 01:44:36
Directed by:Lina Wertmüller
Actors:  Giancarlo Giannini, Candice Bergen, Michael Tucker
Language: Italian
Country: Italy
Also known as: La fine del mondo nel nostro solito letto in una notte piena di pioggia, The End of the World in Our Usual Bed in a Night Full of Rain, En una noche repleta de lluvia
Description: In English-Candy and Giancarlo provide their own voices, others are dubbed (badly).
The usual Lina Wertmüller grab-bag melange of bedroom politics colliding with Marxism-but this time with Candice Bergen! I'm sure a student of film theory as it relates to mid-century political philosophy might find a meaningful message in this little tale of 15 years in the life of couple. The B&W still footage of man's inhumanity to man and the trademarked Wertmuller chorus of crones just seemed a little heavy handed to me (yes like the picture of Marx in make-up).
The film's "Full of Rain" greatest fault (other than lack of naked Candy) is that it follows the thoroughly debunked notion that Giancarlo Giannini is even 1/4 as interesting as Candice Bergen.
Review of Night Full of Rain movie: She was an American photographer, he – an Italian journalist with leftist views. Lizzie and Paolo first met in Rome, then – in San Francisco, and after that it did not leave. But the couple of them did not work. He likes the changes, Paolo takes a real conservative family life, and Lizzie with her ​​feminist protests against the manners of the role of the cook and laundress. Soon in the marital bed to happen end of the world.
Screenshots:
Download: