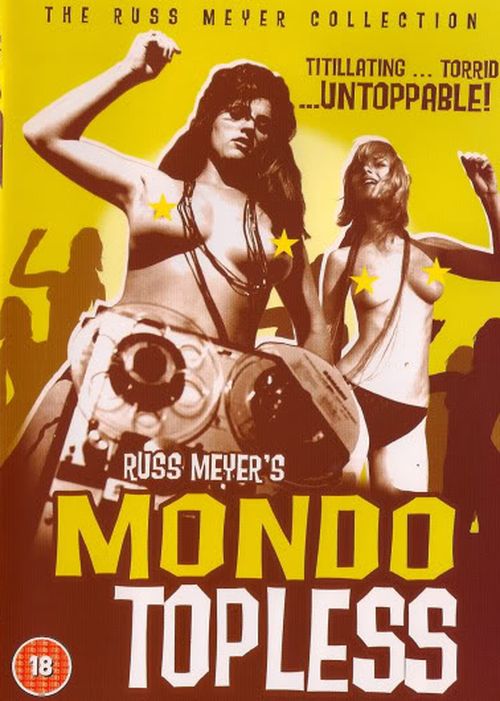 Year: 1966
Duration: 01:00:18
Directed by: Russ Meyer
Actors: Babette Bardot, Darlene Grey, Pat Barrington, Diane Young, Sin Lenee and Darla Paris
Language: English
Country: USA
Also known as: Mondo Girls, Mondo Top
Description: Mondo – part of the names of several documentaries concerning sensational topics and events. Often resemble a pseudo- documentaries. Russ Meyer movie «Mondo Topless» was one of the few " documentary " films to video era banned in day time ( midnight movies ) , as explored strip clubs San Francisco 1960 . , While as the rest of the U.S. strip clubs were a novelty , their distribution was limited mainly port cities . Throughout the film, amazing girls topless dancing , provocative music 60s …
Review: This film is one of my favorite documentaries. It is only one hour . And all this time we show completely different girls who danced topless under a rock – and-roll and tell us what they think about themselves, men , sex, beauty and just about life. It's so nice friends .
I must say all the girls in the film is very interesting . Of course they are not professional actress. Russ Meyer just took different girls from the street at the camera. But in this case it's even good than bad. Because I think if it was played by a professional actress , he would have lost its atmosphere and sharpness.
This film was made by Meyer director, cameraman , editor and producer. We can say , Meyer took a hundred percent cult documentary. Which is not like any other movie . The film, which erases the boundaries of decent and this is its main strength .
At the end of the film we are asked a question .
You liked the flame that burns in these girls ?
I can say that I loved . Look at this brilliant film, perhaps he'll like it too , as well as me .
Screenshots:
Download: