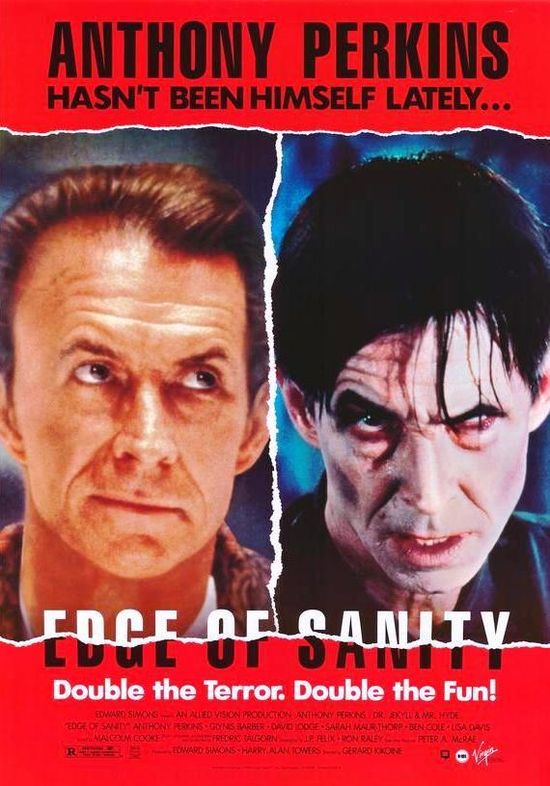 Year: 1989
Duration: 01:30:48
Directed by: Gérard Kikoïne
Actors: Anthony Perkins, Glynis Barber and Sarah Maur Thorp
Language: English
Country: UK, France, Hungary, USA
Also known as: À Beira da Loucura, Al borde de la locura, Au-delà de la folie, Dr Jekyll & Mr Hyde, Dr. Jekyll e Mr. Hyde: sull'orlo della follia, Järjen tuolla puolen, Na krawedzi szalenstwa, Nattens inkräktare, Split – Edge of Sanity
Description: Free-style adaptation of Robert Louis Stevenson's novel "Dr. Jekyll and Ms. Hyde". The director, like almost all his predecessors who turned to the well-known book of Stevenson, asked the same actor to double major role – and Anthony Perkins played what was required from him. The most curious, perhaps, that the pathological pervert in his interpretation was not only Jack Hyde, the murderer of prostitutes, but and Dr. Henry Jekyll, quite a respectable citizen of society.
Review of Edge of Sanity: Doctor Jekyl has everything: a loving wife, a huge house and a favorite job. He is considered as a genius in his scientific career, tarnished for a great success, but one day because of a failed experiment, he turns to Jack Hyde, a serial killer, brutally murdering prostitutes …
At the beginning two words about acting. Quite strange to see the brilliant Anthony Perkins (Destroyer) in a cheap horror movie. Perkins, however, is exactly what sets this film against the backdrop of thousands of similar pictures. Perkins coped with a new amplua. The acting game of the other cast leaves much to be desired.
The film Edge of Sanity revives the two things as I said before the acting game and a good soundtrack. Film is recommended to people who are interested in works of Anthony Perkins, the others should watch it too if they want.
Screenshots:
Download: