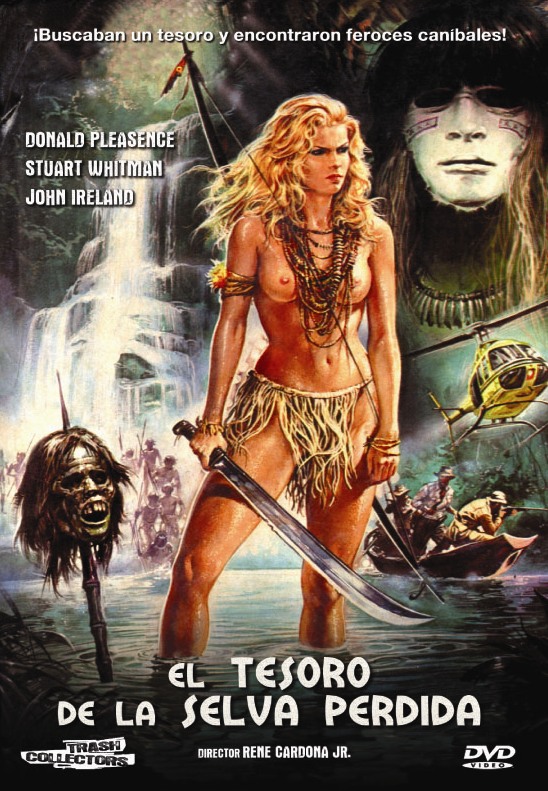 Year: 1985
Duration: 1:56:16
Directed by: René Cardona Jr.
Actors:  Stuart Whitman, Donald Pleasence, Bradford Dillman
Language: English | Spanish

Country: USA | Mexico

Also known as: Greed, El tesoro del Amazonas, El tesoro de la selva perdida, Il tesoro dell'Amazzonia, Les diamants de l'Amazone, Amazonin aarre, Skarby lowców glów, Das Geheimnis des blauen Diamanten

Description: 
Gory Jungle movie, mexican style!. Sort of adventure/action/splatter/sleaze movie, following the steps of the italian cannibal flicks of the late 70s early 80s.
One of the few English-language films the late Rene Cardona, Jr. made as a joint Mexico/US production, TREASURE OF THE AMAZON is another in a long line of films "inspired" by the success of the Indiana Jones franchise. Stuart Whitman takes the lead here as a hardened jungle scavenger, who heads one of several simultaneous expeditions into the Amazon in search of diamonds. Stu's party consists of hot-headed Pedro Armendáriz Jr. and Jorge Luke, who venture in by boat (said boat is manned by Hugo Stiglitz and features priest John Ireland). Bradford Dillman and Ann Sydney arrive via biplane. But Nazi Donald Pleasence and topless Sonia Infante who definitely make for the most intriguing jungle adventurers of all (on horseback, to boot), as all three factions of greedy dumb humans invade the jungle overseen by evil Emilio Fernandez, who sleeps with his own grown topless daughters.
Rene Cardona Jr's ultra-campy, ultra-sleazy 1985 exploitation adventure masterpiece tale starring Stuart Whitman, Donald Pleasance, Bradford Dillman, Sonia Infante, John Ireland, Emilio "El Indio" Fernández, Pedro Armendáriz Jr, Jorge Luke, Ann Sidney, and Hugo Stiglitz
Screenshots
Download