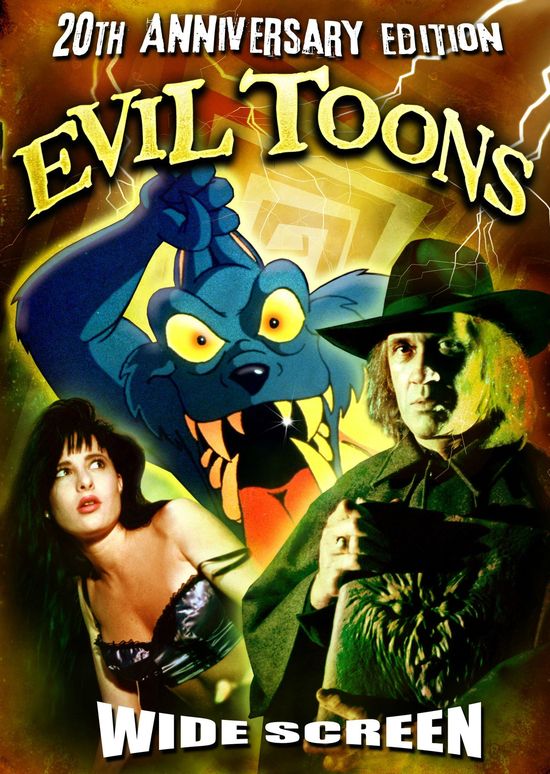 Year: 1992
Duration: 01:22:35
Directed by: Fred Olen Ray
Actors: David Carradine, Arte Johnson, Dick Miller
Language: English
Country: USA
Also known as: Magias do Mal… O Verdadeiro Humorror, Evil Toons – Flotte Teens im Geisterhaus, Dibujos maleficos, Qui a peur du diable?, Gonoszkák, Evil Toons – Non entrate in quella casa…, Eviltoons – Diavolo di un cartone, Demonzla
Description: 
Four sultry college coeds are hired to clean an old house, which has a history of strange occurrences, for the new owners. As they are cleaning, a mysterious man delivers a package to them. The package turns out to be a strange book with weird marking written in an ancient language. One of the girls is able to decipher the tome and inadvertently summons a horny cartoon demon intent on possessing its victims.
First, let me say that I love stupid B-movies. I also like a good soft-core porn flick every now and again. When I first saw this at the video store, I was determined to see it.
With that being said, here's the good in the movie – boobies, boobies, boobies. If you count an appearance by David Carradine as good, there's that too.
That's it. Those are the only good things about this movie, and I'm not talking about David Carradine. This movie sucks. The plot is dumb, the acting is lame, the demon looks dumb, and it's a bit clichéd in parts. Of course, one of the girls is a virgin. She also happens to be the ONLY one who can read the tome. I don't know why people keep using this plot device, since it doesn't work very well and it's overplayed. The book also looks like a really cheap imitation Necronomicon from the Evil Dead Series.
While this is a stupid B-movie, it goes far beyond that. This doesn't really need to be a B-movie to be stupid. The cheesiness adds to the stupidity, which I don't see happen too often.
Ultimately, this movie was made as an excuse to see some topless women. Granted, Monique Gabrielle is second to none, but while her scene isn't too bad, she's had better. Much better. If you really want to see her nude, and in better scenes, check her out as Emmanuelle or watch her in Deathstalker II.
The main reason that I watched this movie (and wasted 90 precious minutes of my life) was for the boobies. This is the ONLY reason to watch this movie
Screenshots:
Download: