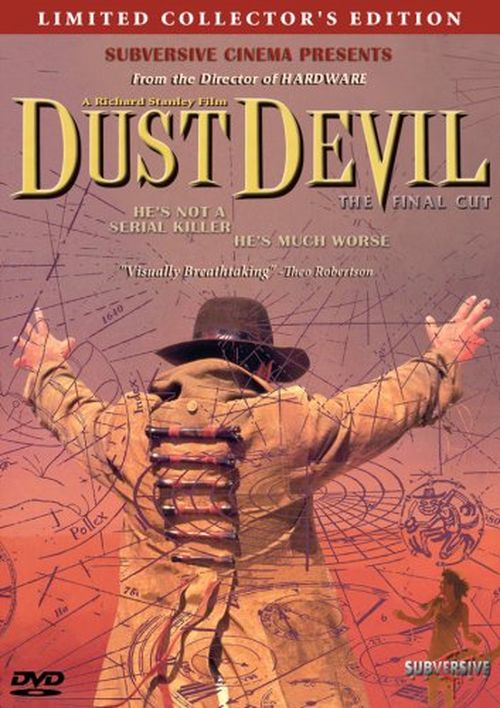 Year: 1992
Duration: 01:48:09
Directed by: Richard Stanley
Actors: Robert John Burke, Chelsea Field, Zakes Mokae
Language: English
Country: UK
Also known as: Demonio del polvo, Dust Devil – O Colecionador de Almas, O Colecionador de Almas, Le souffle du démon, Porforgatag, Demoniaca
Description: 
A shape shifter (Burke) comes from the desert in search of victims, a spirit the locals call "The Dust Devil". He prays on the lonely and the unloved, those that have already lost everything but life itself. Wendy (Field) has broken up with her husband and wanders aimlessly in her car. She picks up a stranger and begins having misgivings about picking him up when strange things begin to occur. Meanwhile a local police officer (Mokae) tracks the killer. Aided by a shaman's admonishments about witchcraft he sets off to try and stop the beast before it can complete its grisly task.
The director's cut of Richard Stanley's 'Dust Devil' has been long overdue. Butchered to pieces for its original release, this version was released in 2006 along with a VHS based workprint of Stanley's original vision in a limited edition box set. Essentially, what made it into theaters was a version of the film that severely compromised all the occult and supernatural elements in the story in favour of turning the film into a more generic serial killer film. One can but imagine the looks of abject confusion on the faces of distributors when they saw Stanley's original work – a combination of western, serial killer thriller, surrealism, and outright supernatural horror.
Hot on the heels of 'Hardware', a film that has itself gone on to achieve cult status, in 'Dust Devil' Stanley tones down the already slow paced approach of his preceding film to create a work that is a veritable 1 hour 45 minute lesson in creating atmosphere and mood. Unashamedly symbolic, with visuals and themes that stretch well outside any genre limitations you may care to place on the film, 'Dust Devil' is a truly original piece of work. Dark, menacing and one of the best looking films of the 1990's, we can now at least all enjoy this slice of independent cinema as the director intended, free of the interference of suit-clad folk who thought they knew better.
Screenshots:
Download: