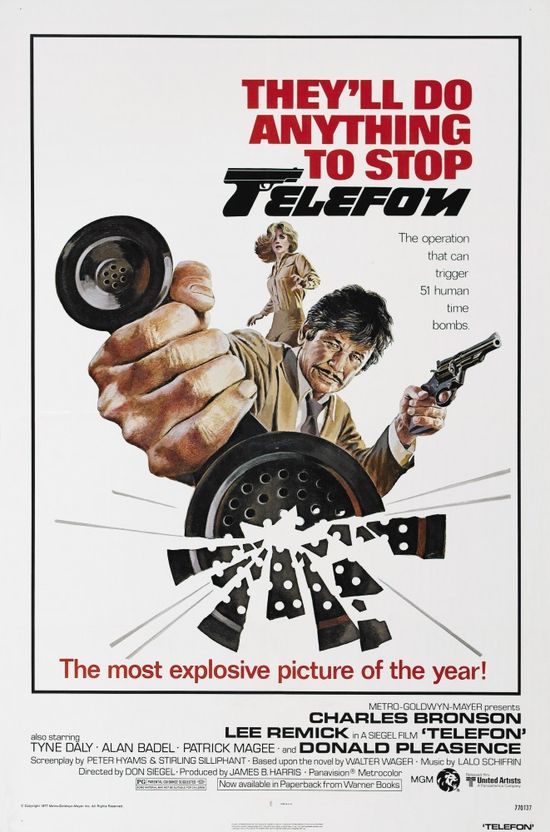 Year: 1977
Duration: 01:42:41
Directed by: Don Siegel
Actors:  Charles Bronson, Lee Remick, Donald Pleasence
Language: English
Country: USA
Also known as: Телефон, Operación Telefon, Teléfono, Un espion de trop
Description:
Bronson as a KGB agent with photograghic memory? Yes, comrades. It's not as stupid as it sounds, though. The action is a bit on the slow side for a Bronson flick, and the ending kinda comes out of nowhere, but those are just minor gripes. This is really a solid little thriller that will definitely keep you entertained for 100 minutes.
The KGB agent together with long-legged colleague from the CIA to prevent a terrible series of explosions across America. Terrorists — hypnotized spies operate on the signal sent is unknown by clicking on the buttons of the telephone.
Famous hero of action flicks and westerns, one of the participants in "the Magnificent seven", Charles Bronson in the role of a Russian major General Borzov frankly disappointing and looks very sad. It's definitely not the pinnacle of his acting career. Even Arnold Schwarzenegger, it is difficult to imagine in the role of captain of the Soviet militia, playing the role of Ivan Danko in "red heat", seemed much more plausible. Only good news is that unlike most Hollywood production, here Russian karabelnik is still a positive character, though not calling neither sympathy nor participation.
Screenshots
Download