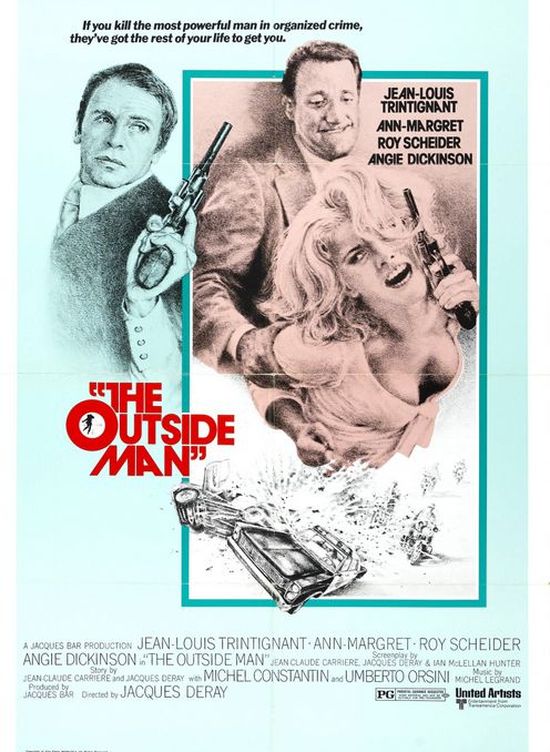 Year:  1972
Duration:  1:44:34
Directed by:  Jacques Deray
Actors:  Jean-Louis Trintignant, Ann-Margret, Roy Scheider
Language:  English ,French
Country:  Italy | France | USA
Also known as:  Un homme est mort , Os Gangsters não Esquecem , Manden udefra , Funeral en Los Ángeles , Yksinäinen tappaja , O anthropos ap' to Parisi , Egy ember halott , Meghalt egy ember , Funerale a Los Angeles , Achtervolging in Los Angeles , Mosca em teia de aranha , Den våldsamma jakten , Bir adam ölecek , Brutale Schatten , A Man Is Dead
Description:
1.46GB XVID OF JACQUES DERAY'S 1972 FILM THE OUTSIDE MAN (UN HOMME EST MORT) STARRING JEAN-LOUIS TRINTIGNANT, ANN-MARGRET, ROY SCHEIDER, ANGIE DICKINSON, JACKIE EARLE HALEY, JOHN HILLERMAN, ALEX ROCCO, TALIA SHIRE, TED DE CORSIA, GEORGIA ENGEL, MICHEL CONSTANTIN, UMBERTO ORSINI AND FELICE ORLANDI.
LOW-KEY, DREAMY FRENCH NOIR THRILLER WITH AN INTRIGUING, HIGH-POWERED CAST DOESN'T OFFER ANYTHING NEW IN THE WAY OF NOIR EXPOSITION OR MISE EN SCENE, BUT THE OUTSIDE MAN DOES WHAT IT DOES WITH SLEEPY DISPATCH AND WITH AN INTERESTING, PARALYZED FEEL TO IT THAT FITS RIGHT IN WITH THE DROWSY, GRUNGY, SUN-BLEACHED LOCALES.
THIS FRENCH-ITALIAN CO-PRODUCTION PLAYS UP SUPPORTING PLAYER SCHEIDER ON THE POSTER ART AS HE'D JUST SCORED HUGE THE PRIOR YEAR WITH THE FRENCH CONNECTION. DIRECTOR DERAY (BORSALINO) OBVIOUSLY HAS A DEEP-SEATED APPRECIATION FOR NOIR CONVENTIONS. HE MAY NOT BE REINVENTING THE GENRE HERE, BUT HE DOES MANAGE TO GIVE THE STORY A STRANGE, SLEEPY VIBE THAT'S VERY INTERESTING. HE ALSO WROTE THE ORIGINAL SCREENPLAY ALONG WITH IAN MCLELLAN HUNTER AND JEAN-CLAUDE CARRIERE.
RIPPED FROM THE MGM ON DEMAND DVD, PRESENTING THE FILM IN 1.85:1 WIDESCREEN. A COOL, NUMBED, WORKMANLIKE NOIR WITH GOOD SUSPENSE AND A SURPRISINGLY COMEDIC TOUCH AMID ALL THE ZONED-OUT MAYHEM. FOR NOIR AND 70'S THRILLER FANS, IT'S HIGHLY RECOMMENDED.
Screenshots
Download