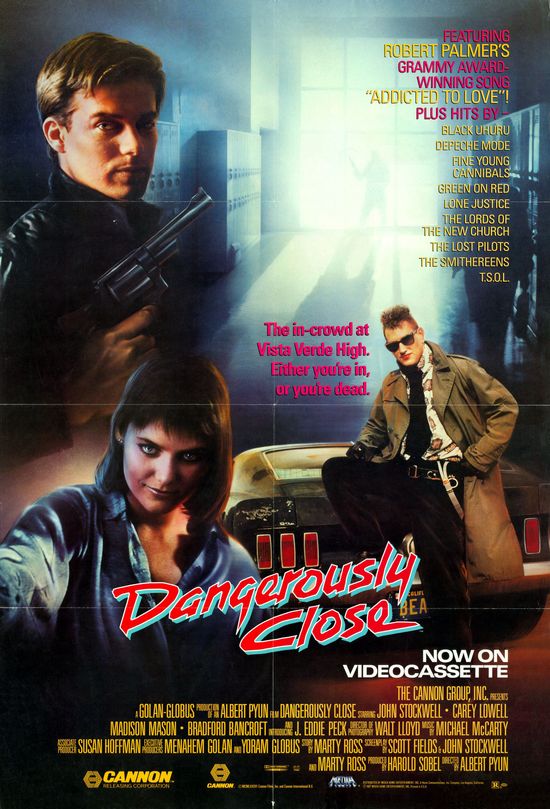 Year:  1986
Duration:  1:34:56
Directed by:  Albert Pyun
Actors:  Scott Fields, Marty Ross (screenplay)
Language:  English
Country:  USA
Also known as:  Campus '86 ,  Los centinelas , Hiuskarvan varassa , Campus , Se apostasi anapnois , Pericolosamente vicini , Dødsleken , Niebezpiecznie blisko , Juventude em Fúria ,Choice Kill ,   Teuflische Klasse
Description:
Let me take you back to the mid 1980's. A younger me would watch all sorts of films on cable tv and mostly a lot of goodness would air on these channels such as Showtime/HBO at night.
I had fleeting memories for a number of years for a film and all I could recall is that this sort of gang dressed almost Para military like would chase high school students through the woods–catch them, not kill them but threaten them really well in a sort of fucked up game.
This haunted me for a number of years. Finally learned it was a rather well done Albert Pyun film Called Dangerously Close from 1986.
Of all his films released on dvd (or released on dvd by Albert himself), Dangerously Close is still an eluding title for whatever reason.
Starring John Stockwell this is almost a black comedy of sorts
the plot for this is as follows:
Quote:
Rebel without a cause or a clue at an elite but uptight High School discovers some of his classmates have formed an even more elite clique more or less hell-bent on ridding the school, and quite possibly American society, of what they deem to be its undesirables because of ethnicity, politics, etc. Our hero recruits a teacher and some other "less desirable" classmates to undermine the elitists, and, naturally, things get quite violent.
Screenshots
Download