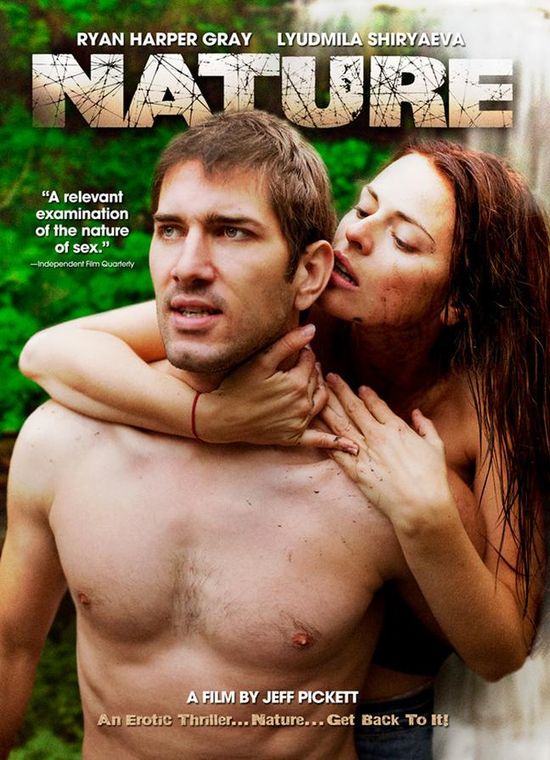 Year: 2011
Duration: 1:26:17
Directed by: Jeff Pickett
Actors: Lyudmila Shiryaeva, Ryan Harper Gray, Jeff Pickett
Language: English
Country: USA
Also known as: 
Description: The film Nature is an erotic drama about a young couple who is trying to restore their sexual passion. After a failed experiment with role-playing games, they decided to go deep in the woods for a week to have sex. Gradually, they realize that they are followed by someone who observes the intimate moments of their relationship. With this pursuer everything they set out to do takes on a new meaning, and they have to decide how far should they go to get the desired result. How close they allow him to approach them, and what will be the price of it for them?
Review: Strange, frankly, the movie. The name "essence" is more appropriate, in my opinion. Quite a civilized young couple lived together for 4 years, begins to feel some discomfort. Heroine (Ludmila Shiryaev) not very satisfied sexually, the hero (Ryan Harper Gray) tries as you can. They love each other, the hero brought his beloved as much from Yekaterinburg. Before going to bed both read the book (!), Very long ago had ever seen! And decides to "change the situation" – a week to take off into the countryside. The right decision!
Parallel director Jeff Pickett shows us hairy bespectacled, stealing food from the supermarket. It looks like he does and plays drifter, photos can not be found. Bespectacled permanently busy turning a folding knife, not a terrible view. Drifter fun that seeing single runners in the park pretending wounded and calls for help. Obviously having decided something bad … but it ignores the potential victims, this psycho.
Our sweet couple pulled in luxury reserved forests of Oregon, lives in a tent and "looking for himself." Mysteriously bespectacled with a knife is in the same forest and grazing there, sleeping on the ground. Ironically, the couple all the time in the sun – sunbathing, swimming … A drifter always in the dark, in the shade of ancient trees. Sharpens his knife …
Finally heroes find each other: a bespectacled man with a knife threatening comes to our couple. But of power, is clearly not equal: a short scuffle hero knocks a knife attacked and fighting girlfriend thrust him in the back the villain. Here on the characters finds inspiration and lust, bespectacled sought and happily fuck near the corpse still warm. Sverdlovchanka reaches finally orgasm, hooray!
Pelted the corpse branches, tired but happy heroes go home. After a few months (the heroine is about to give birth), they slowly ride in the car, looking around. The unfortunate knife proudly reclines in a prominent and accessible place. Waiting for the victim?
Morality? In every man lives the beast. It has been known!
Screenshots:
Download: