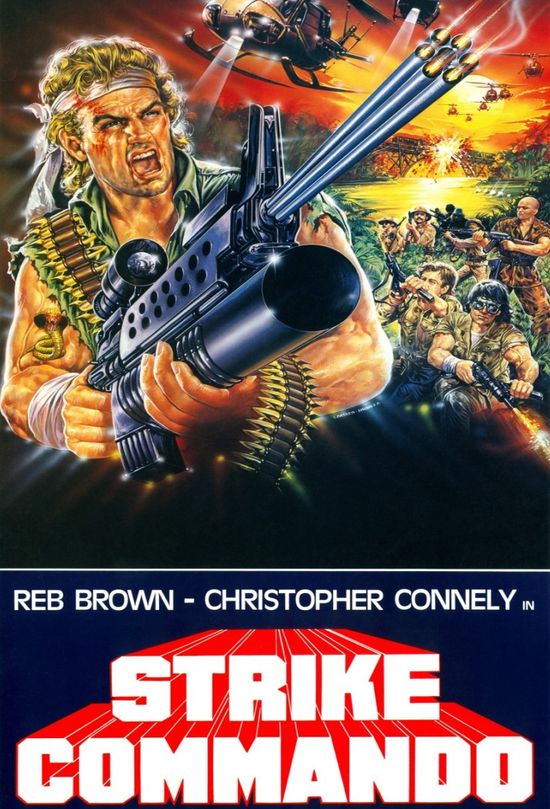 Year: 1987
Duration: 01:00:00
Directed by: Bruno Mattei
Actors: Reb Brown, Christopher Connelly, Louise Kamsteeg 
Language: English
Country: Italy
Also known as: Strike Commando – Comando de Ataque, Strike Commando – iskuryhmä, Strike Commando Section D'assaut, Kommando o exolothreftis, Kobra commando, Suturaiku komando, A Vingança do Comando, Cobra Force
Description: U.S. Sergeant Michael Ransom (Reb Brown who also played in Howling II) sent to fight in Vietnam, but soon captured. However, the Viet Cong are badly mistaken about Sergeant Ransom , for to break his will is not so much easy.
Italian director Bruno Mattei has predominantly very uneven and full of failed paintings filmography frankly , being thus almost the main plagiarist Italian cinema . However, he had insight and those include and adventure thriller "Attack commandos ", filmed in 1987. Of course, in the film strongly influenced significantly by Oliver Stone and his cult film "Platoon" and John McTiernan tapes , but as for the film is not the biggest budget "Attack commandos " looks very good and not without its share of dynamics and intrigue. Action – component picture, shot by cameraman Richard Grassetto , features a good quality productions, successfully keeping the viewer from the screen , despite some predictable plot pattern and an almost complete lack of dramatic line .
Causes positive emotions and acting, the principal cast Reba Brown , who played the role of a brutal sergeant Ransom , Christopher Connelly and Alex Vitale . All characters in the movie , even a purely negative , served not one-sided , which was a definite plus script from Bruno Mattei and Claudio Fragasso .
Soundtrack by composer Luigi Ceccarelli nothing special I do not remember , sounding too traditional and uncomplicated .
All fans of Italian cinema operational I recommend this generally good and highly entertaining thriller , I hope you will not be disappointed .
Review:
Screenshots:
Download: