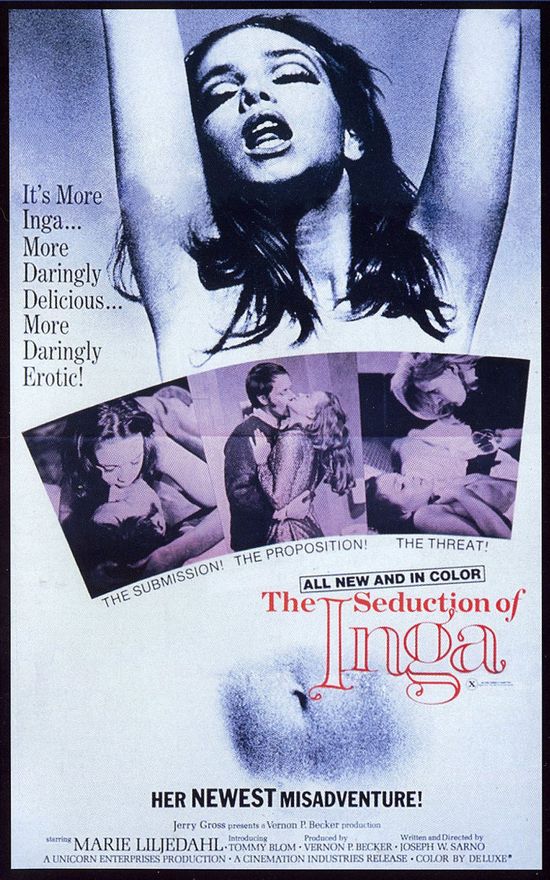 Year: 1971
Duration: 01:27:17
Directed by:  Joseph W. Sarno
Actors: Marie Liljedahl, Tommy Blom and Lennart Lindberg
Language: English

Country: Sweden

Also known as:  Inga Two, Inga and Greta, Inga la séductrice au corps de velours, Kyltymätön, Inga Les filles se déchaînent, Una ragazza dal corpo caldo
Description:  The movie "The Seduction of Inga" is about a young 19 years old girl. It was directed by Joseph W. Sarno in 1971.
Review: Film "The Seduction of Inga" I watched at being interested in the genre sexplotation, which I have recently discovered for myself. Moreover, I learned that this genre is something different from eroticism, because the creators first wanted to show the beauty of the female body as a tool, not a purpose. As we know – not always successful. Sometimes such films can easily be attributed to a bad taste. In any case, this film does not belong to the kitsch, because it does not migrate to the banality of good game played by little-known actors, good direction and script. I admit, I didn't watch any of his works before. It appears, "Seduction of Inga" is a sequel, but after seeing it had no desire to see and a prequel.
In the film played Swedish actress Marie Lilendal. The same who played the helpless Eugene from the same movie of Jesus Franco. She played pretty well, considering her small filmography and experience. The image and appearance are stunning. The director didn't lose by taking her on this role. Also pleased with performance of unknown actress Inger Sundh. I wouldn't call her acting game very good, but the seduction scene with her own father, well it's something awesome. You must see this!
Screenshots:
Download: