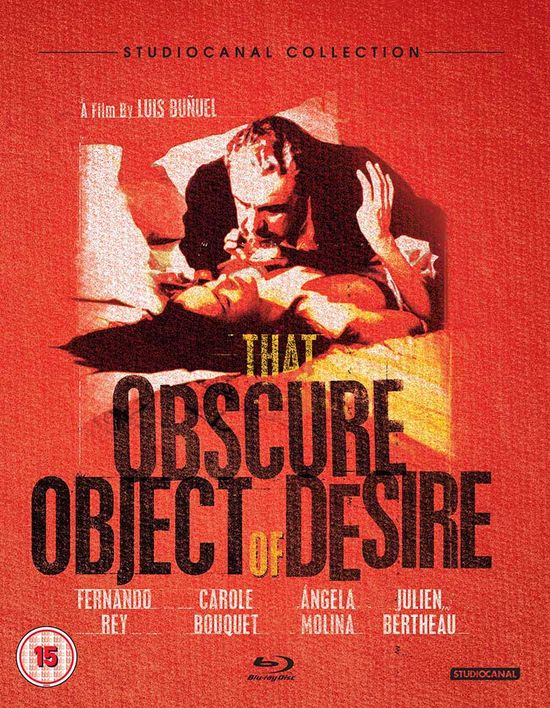 Year: 1977
Duration: 01:45:06
Directed by: Luis Buñuel
Actors: Fernando Rey, Carole Bouquet, Ángela Molina and Julien Bertheau
Language: French | Spanish (English subs)
Country: France | Spain
Also known as: Cet obscur objet du désir
Description: An elderly man falls in love with a young girl who, aware of his power over him, tormenting and teasing him, tempting and stealing away at the last moment. The role of the girls perform two Actresses, embodying different aspects of his personality…
Review: The plot of the film "That Obscure Object of Desire" is very simple – an old rich man falls in love with a young, charming, but the poor girl, and she did not answer him sexual return, though he says he loves.
Many say that the movie poster is not about love but about something deeper, important, hidden. I agree that the film is certainly not about love, because the manifestations of love is not visible from the main character, whether because he's an old, whether from the fact that its not. However, it seems to me that this film if not about love, it's just about the relationship between men and women. Even if I'm wrong, you still discuss it in more detail.
Bunuel (director of Belle de Jour) was filming the movie "Obscure Object of Desire" in more than 70 years, and already could look at the problem of the relationship of the sexes quite disinterestedly, and thus objectively. Understand the motives of the old man, which is attracted to the young but already can't feel the burning passion. Therefore, he does not feel the tide of passion when he sees his girl in the castle engaged in love with a young man.
And in General, the main character reminds Kitty, desiring in the restaurant with love for a young student. Probably, it is a political satire on the bourgeois society, how they love to say in the last century. Understand the attitudes of women toward love, like a woman changes the sex on love.
That one character is played by two Actresses – that's a great move, worthy of a great Director. Carole bouquet embodies the positive features of character, the second actress – negative. And of course, the film is important in all minor details – permanent explosions, terrorist organizations, a feeling of instability.
Review #2: Reputedly this is the first film to have two actresses in the same role, a role that was originally assigned to Maria Schneider. She abandoned the film at the last minute leaving director Luis Bunuel in the lurch. This unusual casting strategy actually enhances the story thanks to Carole Bouquet and Angela Molina, the former a top French model and the epitome of French cool, contrasts sharply with Molina's volatile Spaniard.
Their role is that of Conchita, a young but penniless beauty relentlessly pursued by rich French businessman Mathieu, played by Fernando Rey (Frog One in French Connection). His purpose is not only sex but matrimony, thus gaining respectability in the bargain. Mathieu is used to getting what he wants and has no quibbles about paying what it costs. He meets his match, though, in Conchita who plays him like a fiddle. Just as he thinks he's finally going to have his way, she thwarts his attempt with some flimsy excuse. On another occasion she goes to bed with him wearing a nightdress but, after much fumbling he discovers a chastity belt blocking his entry. In the background The Revolutionary Army of Baby Jesus are causing outrage with a series of terrorist attacks, further threatening the bourgeois normality that Mathieu craves,.
This is a very droll and unusual film with superb performances from all. There's a fair amount of nudity as the girls teasingly flaunt their assets, but there's also some astute comment on the nature of male desire, in particular its blindness – a trait emphasised by the dual portrayal of Conchita, In this case, two really is better than one.
Screenshots:
Download:
That Obscure Object of Desire 1977