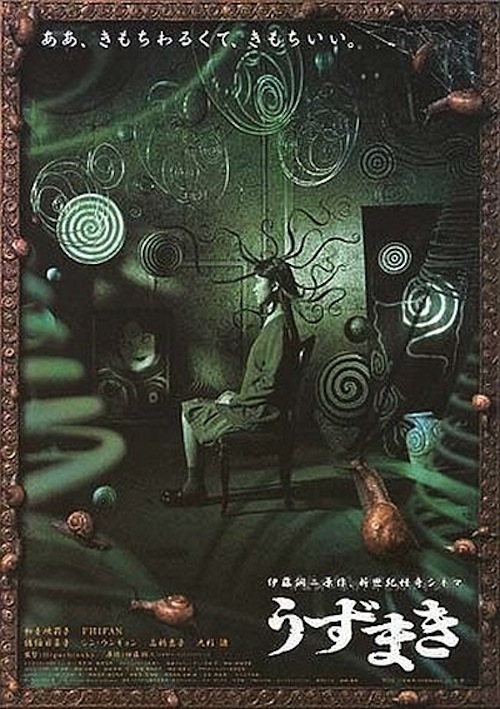 Year:2000
Duration:01:31:06
Directed by: Higuchinsky
Actors: Eriko Hatsune, Fhi Fan, Hinako Saeki

Language:Japanese (English Subs)

Country:Japan
Also known as:Uzimaki, Спираль, Vortex

Description: Kurosu – small Japanese town where the people live a normal and unremarkable life. But once the town begin to capture spiral, spinning everything in its path. The nightmare begins…
The film "Spiral", filmed in 2000 by Japanese Director of Ukrainian origin Jihocesky based on the cult manga, Junji ito, manga frightening and fascinating, full of great philosophical subtext. However, this picture is taken exactly on the motives, for it perfectly conveys the atmosphere of the city Kurosu and dark hallucinogenic imagination of the author and nothing more. The rest of the film doesn't pull a masterpiece due to the presence of dangling plot lines and very naive special effects(the film's budget was only a million dollars) and only a weak elements of thrash and black humor does not make the film boring.
Acting in the film is just good and absolutely not pull the film.
The soundtrack in the film is quite good and the music Tetsuro Ishibuchi, kaiti Suzuki came to the unusual picture of the film, creating a strange and mysterious atmosphere.
"Spiral" is quite original, but sometimes poorly made Japanese horror, which I recommend to view all fans of unusual and legallybuy horror films. Although the film is purely disposable, yet he strongly remembered after viewing.
Screenshots
Download