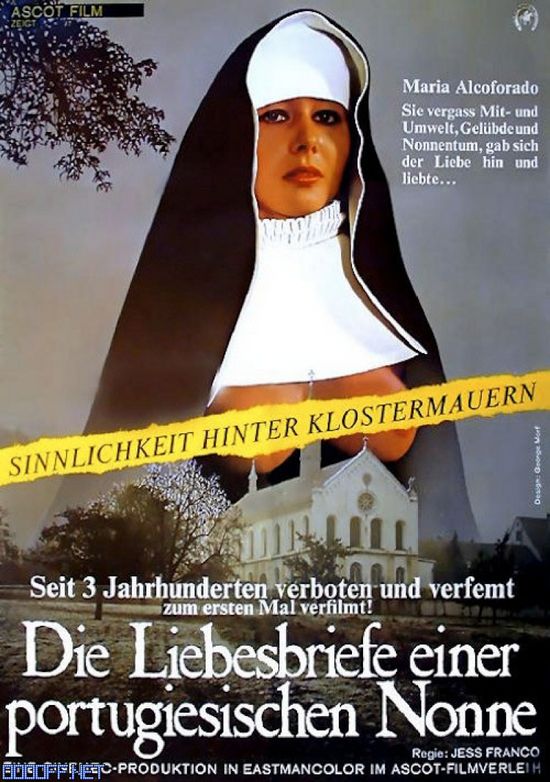 Year: 1977
Duration: 01:29:12
Directed by: Jesus Franco
Actors: Susan Hemingway, William Berger, Herbert Fux, Ana Zanatti, Aida Vargas
Language: English
Country: West Germany | Switzerland
Also known as: Die Liebesbriefe einer portugiesischen Nonne, Lettres d'amour d'une nonne portugaise, Cartas de amor a una monja portugesa
Description: Young Mary (Susan Hemingway who starred in Women in Cell Block 9) arrives at the monastery where priests pray to Satan. The girl decided to tell about this to Great Inquisition, but she falls under the accusation of Satanism. If Jesus Franco (Incubus and Vampire Junction) shot only this movie, he would still have a closed road to heaven. Picture is monstrous and anticlerical. Frames of diabolical coven can serve as a guide for beginners Satanists – and filmed it all in the church setting. Better not to see "Love Letters of a Portuguese Nun" – then you won't pray this sin.
Review: On this subject was shot so many movies that even appeared a special term for the genre – nunsploitation. In short, the girl enters the monastery – is where the fun begins. However, in this case with emphasis on comedy, as usual, but rather in the sado-BDSM. Unlike other similar genre – women's prison – the nuns did not put up a fight, do not show the tattoos and not pretending brutal birth – torture is carried out with the pious and lean faces.
Screenshots:
Another review of Portuguese Nun: An innocent 15 year old (Maria) must wash her sins in the church. But the house of god is plague with lesbian nuns, sex hungry priest and Satan worshippers! Whohooo, that's what I called 'A HELL OF A CHURCH'. Vincente, the boss of the church forced Maria in oral sex but too bad it is not as real as you think. And the scene where the Devil feast Maria's ass is quite a scene. Watching a cute nun's breast being suckled by another nun is also stimulating. Oh how I just love pretty lesbian nuns.
The scene where Maria writes her letter to God is actually quite touching. Well, that's what a 15 yr old kid will do when they are in trouble right guys? Do enjoy this film cause you will crave it for more.
Download: