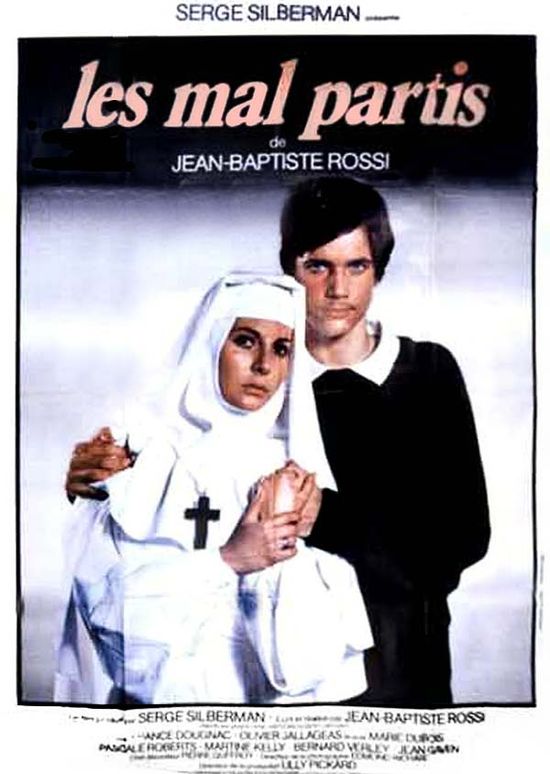 Year: 1976
Duration: 01:56:58
Directed by: Sébastien Japrisot
Actors: France Dougnac, Olivier Jallageas,  Marie Dubois, Jean Gaven
Language: French (Japanese subs)

Country: France

Also known as: Les mal partis, Love Story de un adolescente, Love Story einer Nonne, Storia d'amore di una suora, Olovligt förhållande
Description of Bad Starters movie: fifteen yr old schoolboy Denis and the nun Clotilde slide in love with one another. Within the war the 2 of them take protection at an deserted farm and live gladly jointly until the residents start to get suspicious.
Review of Bad Starters film: In « Les Mal Partis » (Those who had a bad start) a teenager and a nun fall in love during World War II. Their passion meets with a surprising lack of enthusiasm, understanding and support from her hierarchy and the world in general.
Now, let's be completely honest : labeling this « nunsploitation » is stretching it a bit and mainly intended to catch your attention. The movie is a compelling, moving and intelligent drama and, although it includes some brief nudity, it has a grand total of zero sex scenes, its purpose being neither to shock nor titillate. Quite the opposite, in fact, of an exploitation movie. But, all the same, it has nuns and I know some of you like that.
The movie was directed by Jean-Baptiste Rossi, a.k.a. Sébastien Japrisot, from one of his novels, which is a guarantee of quality. France Dougnac is great in the main female rôle, and Olivier Jallageas also gives a fine performance as her young lover. Marie Dubois is a surprising Mother Superior.
A rip of this was recently upped on La Caverne des Introuvables, which made me aware of the movie, but, for once, I didn't use their rip. I found another, longer and better looking one, elsewhere. Thanks to the original ripper and uploader.
In French with hardcoded subtitles of some kind that I fail to identify (but I'm sure at least one of you will tell us what they are.)
Screenshots:
Download: