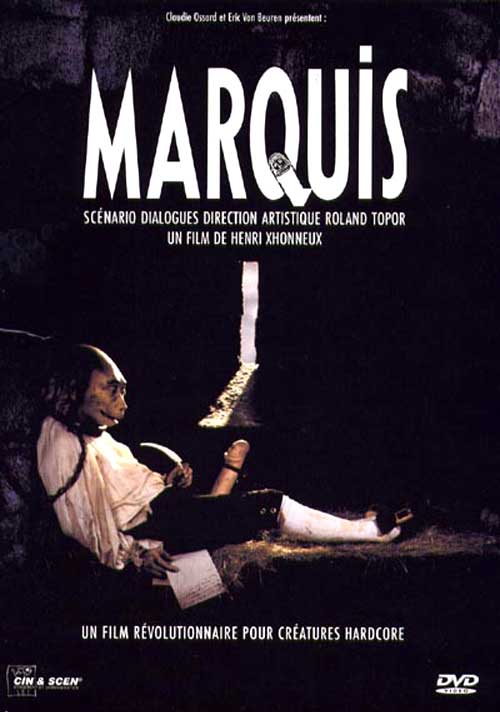 Year: 1989
Duration: 01:19:18
Directed by: Henri Xhonneux
Actors: Francois Marthouret, Valerie Kling, Michel Robin
Language: French | German ( English subs )
Country: Belgium | France
Also known as: Markiz, Marquis de Sade
Description: The action takes place in the Bastille on the eve of the French Revolution. The main characters of the film – its prisoners: Marquis (Francois Marthouret – Sitcom), accused of being denounced for sexual abuse, a former police chief Lupino, landed in jail for taking part in revolutionary activities and the divide the camera cell with the informant of commandant of the Bastille Pigonu, which instead of ferret out details of the upcoming Lupino's uprising , was imbued by his ideas. The entire film Marquis struggles with her inner lust personified his own cock, with whom he constantly disskutiruet of morality.
Review: The unusual style and theatrical part of this film – its main advantages. Delivered on "Philosophy in the Boudoir" and "Justine", the novels of the Marquis de Sade, it shows the people in the form of animals (people dressed up in doll). This creates a strong effect hypertrophic satire.
Marquis imprisoned in a tower, where he is treated with due respect, that's just one of the guards constantly harasses him. Marquis even have to go on cheating: during a simulated intercourse, he pushes the warden in the ass huge lobster, and he has an orgasm. Quite frankly made ​​animation movie: Marquess of constantly talking with his cock, but he is alive he is responsible. Well, Justine, she dies in childbirth in this prison.
Screenshots:
Download: