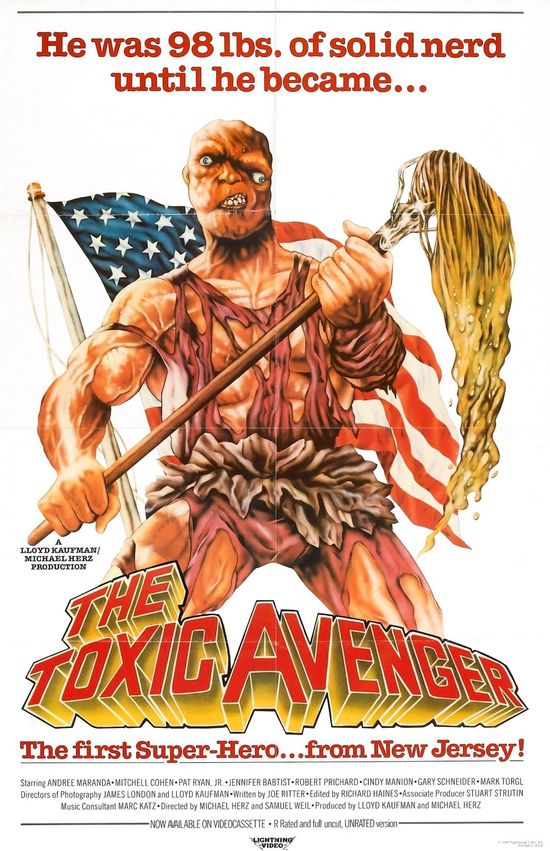 Year: 1984
Duration: 01:31:23
Directed by: Michael Herz, Lloyd Kaufman
Actors: Andree Maranda, Mitch Cohen, Jennifer Prichard
Language: English
Country: USA
Also known as: Atomic Hero, Health Club, El vengador tóxico, Toxic
Description: Near the local health club sticks around Melvin Junko, a wimp, a loser, an object of ridicules and bullying. He got on this world so ugly that Slug and Bozo  thrown him out of the window. Junko falls into a tub with toxic waste.
But he not only survived the toxic debris, but also mutated in a better way. Melvin was reborn to a new life giant mutant named Toxic Avenger. He found a new meaning of his life. Now his goal is to eradicate the evil in his home state.
The flick contains such things as:
Ugly people
Gratuites sex
Beauty and the geek
Romance
Bad acting
Josh Hartnett
Cool mutants helping little old ladies across the road!
Review: I always loved comics and stories about superheroes. Once I came to the conclusion that if there is popular comics, not associated with superhuman, the superhero movies that are not based on the story of comics – a rarity. Until today, I was familiar with such scenes "Robocop," "The Incredibles," "Hancock," "Chronicle of TV's" Heroes "and others (there are many). But today I learned from "The Toxic Avenger". Where to begin?
Plot
I admit, I'm surprised. When I first saw the poster, I was expecting to see something in between "Swamp Thing" and "Man of Darkness." The story of a man reborn, becomes frightening appearance and superpowers and full vengeance, begins the fight against crime. This is actually the whole, the plot. It sounds corny, but after watching these thoughts disappear. The first distinctive feature – is that the main character is not a scientist, not a cop, and the most ordinary young man. Melvin Junko works as a janitor, he is unlucky in everything, he irritates others. After yet another cruel joke, Melvin falls into the canister of toxic waste and becomes a monster. The whole movie he pursues offenders and clears hometown Tromavill from criminals. Toxic Avenger curious instinct with which he feels guilty (similar skill have Ghost Rider and Spawn). From most films of this genre, The Toxic Avenger is different only by shooting and original character. Already during the first 20 minutes you can see the huge number of delusional moments of absurd and inappropriate dialogue scenes, and humor is questionable. This is not surprising, given the directors.
Direction
Lloyd Kaufman and Michael Herz – full predecessors Jason Friedberg and Aaron Seltzer. Both are founding director of Troma Entertainment (in honor of which, apparently, was named the city), which specializes in the production of low-budget independent films. In view of this fact, most of the claims are irrelevant to the film, even as claims to acting.
The cast of
Actors are terrible and look ridiculous. Dialogues in the movie a lot, but niodin have not seen properly since the actors can not focus my eyes on the right spot, pronounce words without the send, and the character Gary Schneider portraying anger, starts just look up and convulsing. Most striking attempt Andree Maranda play blind, it looks stupid, because it often blinks. Of the total of allocated Mitch Cohen, who plays the very vindictive and, despite the suit, moves confidently. It creates a pretty cool image. But, as I said earlier – criticism is not relevant. Most of the actors – non-professionals, and taking into account environmental effects appear naturally in the framework of the film.
The visual part of
It starts to feel a low budget. Installation of one of the worst, when you change the frame changes almost everything during the action scenes hard to watch the proceedings. It is worth mentioning the fact that the frames are changed too often. The fight scenes are full of hypocrisy and cheap special effects, the best of which – the transformation of Melvin in The Toxic Avenger. Not without its popular low-budget action movies fake blood. All of the above creates an atmosphere full of trash and is so abundant, that while watching it seems normal.
Music
The soundtrack is not memorized. In many cases, there is no sound, except for the usual sounds. But scoring hero bad (in some scenes is very impressive).
Costumes and Decorations
Decorations for most ordinary superhero blockbuster: the most common night streets, dirty doorway, sometimes a gym and a dump. Suit the main character, as much in this movie, it looks unlikely. I find it a creative design, but at first glance is very easy and does not convey the right amount of character.
The bottom line:
"Sergeant, get these scum!" (C)
Needless to say that this is not very impressive, full of flawed film. It is almost impossible to take everything seriously. But personally, I liked it, anyway, I'm not disappointed. This is not the movie from which you expect a lot, its just fun to watch. There is no such idea, a good idea is not well implemented. All deficiencies are automatically become virtues. It is interesting to observe for this experience to create a superhero trash (or an independent film, if you like). I recommend "The Toxic Avenger" only to those who are interested in such absurd and funny work.
Screenshots:
Download: