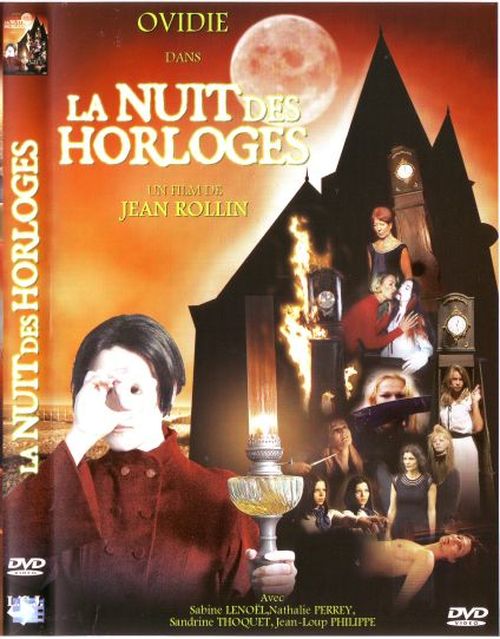 Year: 2007

Duration: 01:31:48
Directed by: Jean Rollin

Actors: Ovidie, Françoise Blanchard, Dominique

Language: FRENCH

Country: FRANCE

Also known as: La nuit transfigurée
Description: A young woman inherits the house of Jean Michel. But she is haunted by strange fantasies and figures. She has no idea that this is the beginning of the night the clocks that open to the sinned, those dead who are not dead, step out and walk around.
Review: In his declining years , deciding to take a look all his life , Jean Rollin (Grapes of Death and Blackaria) makes a film that is otherwise as pretentious and self-absorbed not name. Pretentious – because the very fact of the appearance of such a picture applies for admission to the pantheon of great , self-centered – as the only main character «La Nuit des Horloges» is none other than Jean Rollin . More precisely – the creative director Jean Rollin . Actually these movies (books , music albums) otherwise perceive as a dedication to master difficult … But Monsieur Rollin did not wait until the grateful descendants of them give him his due , and its own " miraculous monument " created himself , during his lifetime. By bringing in a whole all of their successful discoveries , all created an archetypal images, all the characters are carefully endured from film to film . Have something like commemorative album , leafing through which friends and good friends will again remember the maestro over a glass of good brandy . The film is clearly intended to be the last picture of Jean Rollin , as an epilogue to a long novel about the death , which he wrote all his life. Not by chance , the word "last" sounds in "Night Watch " constantly .
Subjective film is built in the form of a virtual journey of a young woman named Isabelle (this name is often found in the film roll ) to the worlds created by visionary director and writer Michel Jean , do not know where the author can only deaf and blind . We meet the heroine of «La Nuit des Horloges» on the Pere Lachaise cemetery , which was recently buried her idol … Here she meets a sad lady with black wings on his back and opens her way in a world filled with characters, symbols and images of the works of deceased . Which, however, in the form of its own ghost itself appears before the heroine. Reality disintegrates into fragments and Isabelle consciousness dissolves into a fantasy world , and it is like Kerrolovskoy Alice in Wonderland kind of . Only way there is not a rabbit hole and through the grandfather clock (another archetypal symbol of Rollin's films ), and conductors in the world will be the heroine of movies shot a master of his creative life . Little Sisters of the Blind of vampire movie of 1997 to demonic Isolde from " Shivers Vampire ."
Jean Rollin gathered in the "Night Watch " actresses of her old movies , those who once symbolized the power of youth and beauty, not fearful of dance with the Grim Reaper. Now perishable breath that has touched their bodies. Like Virgil leading Dante through the circles they Isabelle rollenovskogo Hell, the new symbol is in the picture are the halls of the anatomical museum "La Specola " in Florence . Episodes of old tapes kaleidoscope flash before the viewer , replaced phantasmagoria quest Isabelle quintessence of which will be an erotic scene of horrific exhibits .
Rollin Rollin would not have been if left without your movie erotica. Eros and Thanatos in his work have always been inseparable , reaching its climax in the "Iron Rose " ( a film that recalls the maestro in "Night Watch " is probably the most often) . But the symbolism here is too straightforward …
However, to find fault with «La Nuit des Horloges» is not quite fair. It would be like to make a complaint to the memoirs of the fact that their author is too subjectively describes the place in his book of the event. But " Night Watch " – is nothing more than a memory. Memories , filled with nostalgia for the irretrievably lost youth , memories , filled with bitterness of defeat in the game with Death , memories , allowing them proudly to the author to say that he lived a life for a reason. And the fact that they were dressed in a shape similar to a eulogy to himself … forgive this little weakness of the French maestro.
So in conclusion – a little ps: all the fans of Jean Rollin – watch «La Nuit des Horloges» without fail!
Screenshots:
Download: