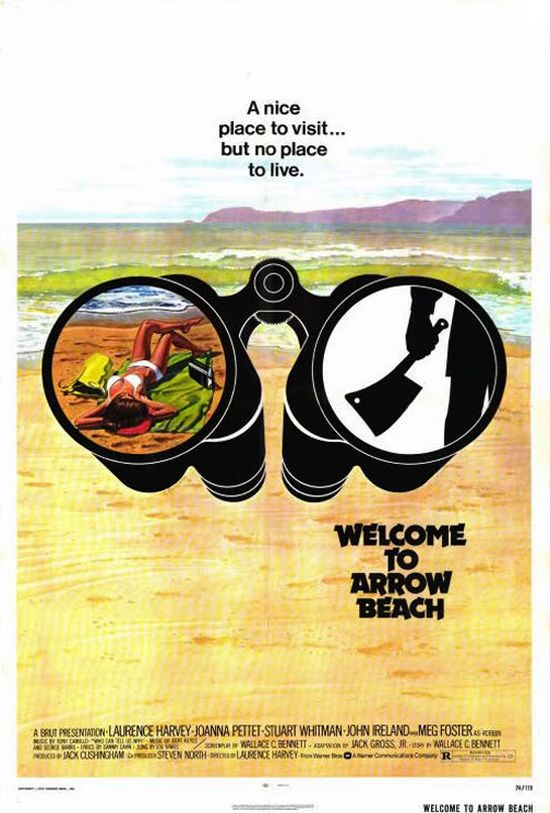 Year: 1974
Duration: 01:40:00
Directed by:  Laurence Harvey
Actors:  Laurence Harvey, Joanna Pettet, Stuart Whitman
Language: English
Country: USA
Also known as: Tender Flesh, Arrow Beach, And No One Would Believe Her, Cold Storage, Arrow Beach: la spiaggia della paura

Description: A hitch-hiking girl, fresh off a car chase 'n accident, wanders on to a California, clothing-optional beach. She is spotted via binoculars and taken in by a charming, yet sinister-looking, Korean War veteran who lives in a nearby beach house mansion with his sister. Under the guise of being an avid photographer, our creepy hero likes to lure girls into his studio. She is welcomed to stay the night but not before being closely observed at dinner-time while she quickly devours her savory steak. It doesn't take long before she begins to suspect strange going-ons within the premises. She is alerted by ominous noises coming from the basement and soon after finds reason to fear for her very life.
The cinematography, clever angles, and use of color in this film are quite excellent.
Review: It is the only movie Laurence directed, and while it is far from perfect, it has some really nice stuff in it that makes you wonder what he could have done with a little more time and experience behind the camera. It has a great freakout murder scene near the end that by itself is worth the price of admission…which I guess is actually nothing since you are getting the movie for free…but you know what I mean.
Screenshots:
Download: