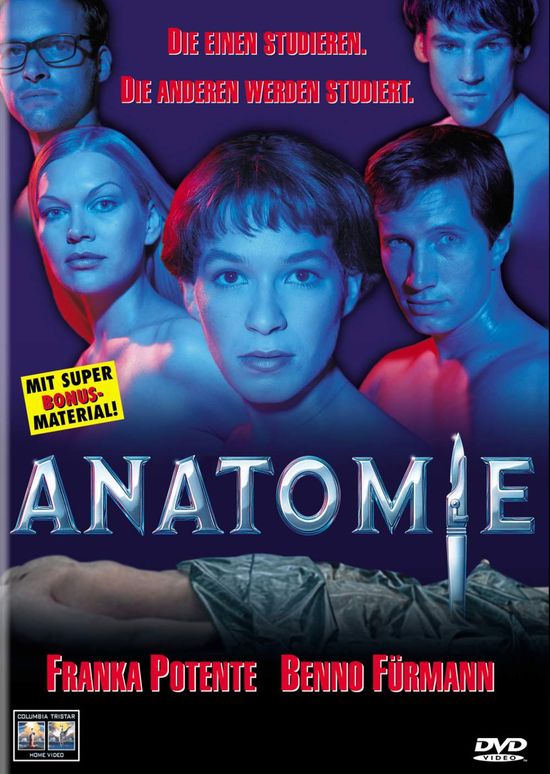 Year: 2000

Duration: 01:39:27
Directed by: Stefan Ruzowitsky

Actors: Franka Potente, Anna Loos, Benno Furmann

Language: German | English

Country: Germany
Also known as: Anatomy, Anatomie

Description: A student from one medical school student gets on educational practice to the famous professor, but she had no idea that she has to learn the strange and brutal science: the veteran coach is not who they say he is. When his students found this, it was too late, too late …
Review: The film is quite good in general, although for fans of horror will seem boring, because more emphasis falls not on killing themselves, and to find the one who commits them and why. Fans of thrillers may also not like it, because there is no heavy suspense. On the contrary, despite the murder, the film is light enough and the place is not too serious.
Now, what I liked here:
1. I liked the atmosphere of anatomy, because I can remember myself as a student of the 1st course.
2. I liked that, perhaps for the first time, medical students in the movie I saw as they are: the best of cynical, obsessed with black humor, and, at the same time, dedicated.
3. Medical aspects of the film have been close to the truth, which is rare in the movie, then, did a good job of the medical consultant.
4. Secret organizations that kill people – hackneyed theme, but in this film, which is quite original, it is far from the goal of politics and money.
5. It is like some kind of anatomical specimens of the human body, a kind of art form.
6. Interesting topic for a horror movie. Indeed, what could be worse than when dissecting a living person.
Film for a viewer is intended, first and foremost, a former medical students interested in medicine or to see in Germany is studying at the medical school, as well as those who like Franka Potente. Classic slasher fans might not like.
Screenshots:
Download: