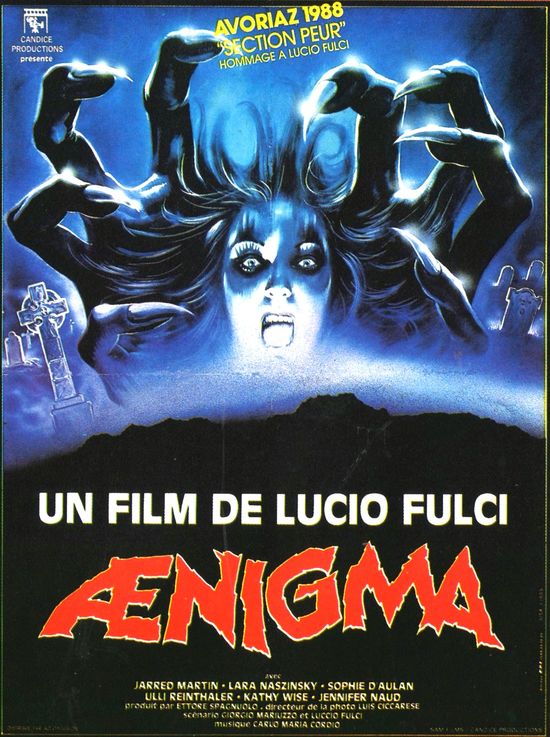 Year: 1987
Duration: 01:25:39
Directed by: Lucio Fulci
Actors: Jared Martin, Lara Lamberti, Ulli Reinthaler
Language: English | Italian
Country: Italy | Yugoslavia
Also known as:Ænigma, Aenigma, Daemonia, Enigma, Enigma do Pesadelo, Internado diabólico, L'énigme
Description: Kathy did not like at school. Her classmates laughed at her and abused in every possible way, regarded it as simply boring and inept. Few imagined that one of the jokes can go too far, causing a bloody revenge and a whole series of terrible events.
In the prestigious gated women's college student Katie, a young and very beautiful daughter cleaners at this institution. Katie is a permanent REAL svestnits ridicule, but no one ever imagined that one has such a joke would lead to the most terrible and fatal events.
The film "Aenigma" was shot in 1987 by the famous Italian treshmeykerom Lucio Fulci, in which he paid tribute to so much more successful films as "Carrie" and De Palma's "Phenomenon" Argento, creating his own version of the history of violent revenge outcast outside world. It is this secondary and spoils the overall positive impression of the film, made in the classic way to Fulci, that is, the viewer is waiting cavalcade extremely cruel, in the spirit of thrash metal, murder, and a unique atmosphere, recognizable from the first frame works director. Operator Louis Chikkareze made a film set in a bleak, but very beautiful manner, diluting some of aesthetics even share a scene of violence.
Acting in the film as a whole is quite good. Nishinski Lara (Eve) and Milia Zhiroevich (Kathy) created vivid and interesting way of demonstrating a satisfactory picture of the level of their acting. Convincingly played as male characters played by Jared Martin and Riccardo Aserbi.
The perfect complement to the picture was the soundtrack of authorship Carlo Maria Korda, full of suspense and lyricism.
I recommend this tape to all fans of Italian horror films and trash, and all lovers of creativity Lucio Fulci (A Rather Complicated Girl).
Screenshots:
Download: